Golden pedestrian bridge restored
Walkers and cyclists in Golden appreciate the restoration of the Kicking Horse pedestrian bridge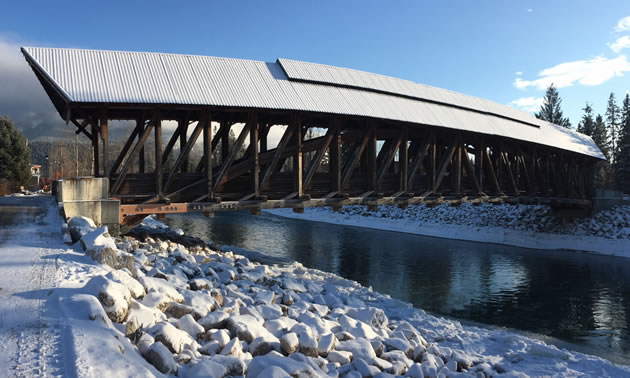 The beautiful timber-frame pedestrian bridge in Golden, B.C., has become a landmark and well-used community amenity since its construction by the Timber Framer's Guild of North America.
It is the longest freestanding timber-frame bridge in Canada. Over 100 members of the Timber Framers Guild came from the U.S., Europe and all over Canada to help raise the bridge at the community event in 2001. The superstructure weighs over 95,200 kilograms (210,000 pounds) and was constructed of 72,000 board-feet of Douglas-fir timbers.
In 2016 an engineering assessment of the 47.5-metre-long structure revealed rot within the supporting timbers at each abutment. After planning and budgeting by the Town of Golden, a reconstruction project began in August 2017.
International Timberframes Inc., the general contractor, oversaw the construction of temporary access ramps and working platforms on the riverbanks to facilitate the repair project. The bridge was supported and raised at each end on these temporary foundations to allow replacement of the rotting timbers. The earthwork and intricate lifting operations were carried out by Jackson Contracting & Excavating.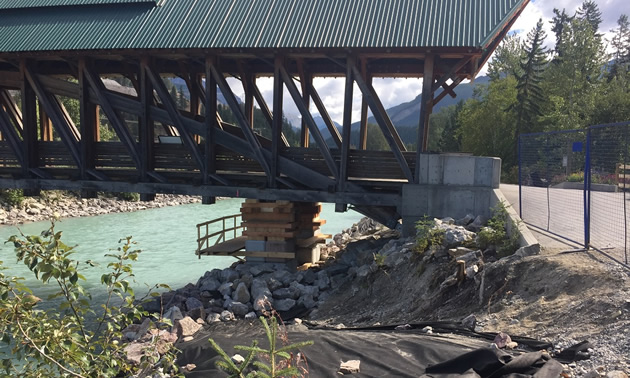 To comply with environmental and fisheries regulations, the temporary ramps and foundation work had to be completed by August 31. After careful planning and material procurement, International Timberframes began structural work in November. By mid-December, the timbers had been replaced, the bridge was re-secured and the bridge deck replaced. At this time the access ramps were removed and the dykes restored.
Further repairs will include new snow stops and eavestroughs on the roof to ensure that the bridge ends are better protected from future water damage. The addition of siding along the outside of the bridge railing will help protect the lower structural members against weather.
Project engineering was done by ISL of Canmore and geotechnical engineering by Onsite Engineering of Golden. The bridge is owned by the Town of Golden. Funding for the project was provided by the Town, Columbia Basin Trust and B.C's Resort Municipality Initiative.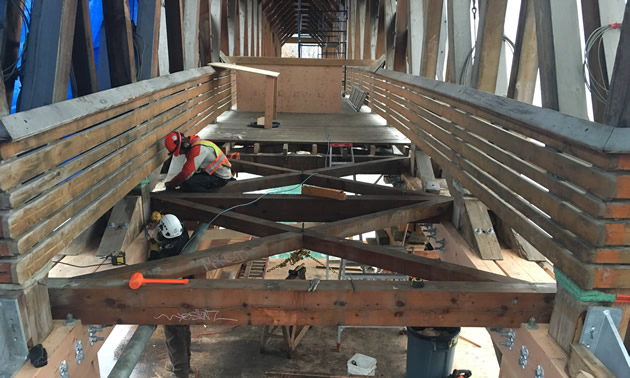 The restoration and reopening of the Kicking Horse Pedestrian Bridge, which intersects with the walking trail that circles the town, will be warmly appreciated by walkers and cyclists who enjoyed using the vehicle-free route in the past. For visitors, the bridge is a landmark and a must-see.
According to Tourism Golden, the bridge is regarded by the community as a symbol of Golden's co-operative spirit. That spirit was in evidence throughout the restoration project as local tradespeople, contractors and the Town of Golden worked together to bring the project to completion.