Golden 2018: growing strong
Golden's recently elected administrative team is occupied with many projects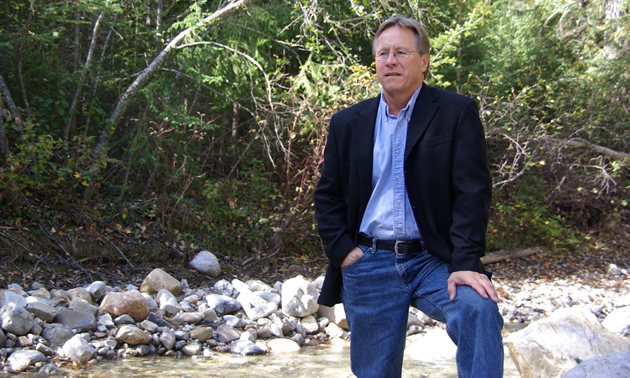 Ron Oszust is gratified that the municipal elections on October 20 have ushered him into a second term in office as the mayor of Golden, B.C.
"(In) the last four years," Oszust said, "we've had a great council and great staff. We've been able to get lots done and there's lots more to do. I'd like to bring some progress and closure to projects that have been outstanding for decades. It's hard to maintain momentum and direction when you switch drivers."
Continued asset management heads the agenda for Golden's administrative team. The condition of the systems delivering core services—water, sewer and roads—along with their life expectancy and the cost of replacement, are at the heart of asset management and thus important responsibilities of the mayor and council.
Biggest Golden grant ever
The Town of Golden has received a grant of $5.87 million—the largest single grant ever received in Golden—from the federal Gas Tax Fund. The grant will enable the Town to address a long-standing public safety project: To raise the Kicking Horse River dike to the 200-year flood level.
Engineering and planning have already begun, though the bulk of the work will be done in 2019 and 2020, on a schedule that complies with environmental protection and fisheries responsibilities. The biggest component of the project is a section where non-traditional methods need to be used to raise the level of the dike.
"So we're building a seawall," Oszust said. "This will be an opportunity to enhance the downtown while raising the dike to the required level, with all the utilities underground. It will turn that area from an ordinary back alley to a beautiful section of the river walk, with businesses backing onto it."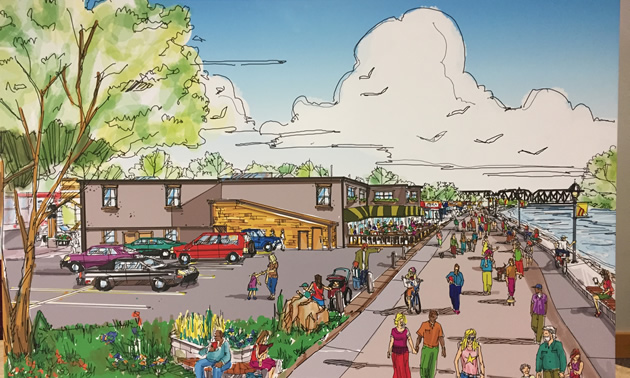 Priorities, policies and projects
Other concerns that have had the attention of Golden's mayor and council are: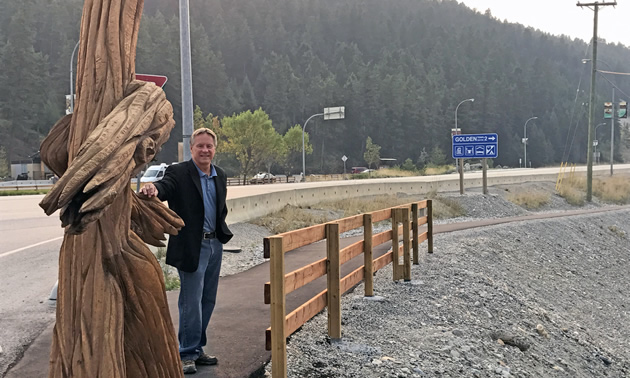 Improving physical connectivity: The Town of Golden has built a low-grade path from downtown up to the ball diamond and the residential area, providing general access for people of all ages and mobility levels.
Short-term rentals: Council has been working on bylaws and zoning to address this issue, developing policies and language that will protect neighbourhoods and balance the needs of residents, local businesses and the community. Those measures will be enacted in late 2018.
Cannabis policy and language: Council members are learning best practices and choosing their direction. "We want to get this right," Oszust said, "and make sure we can adjust policies and language if we don't get them right the first time."
Communication: The Town has hired Carrie White as its communications officer, and communication with residents is now more frequent, accurate, comprehensive and consistent.
Shared services
The Town of Golden has been crafting an agreement with Columbia Shuswap Area A about shared services at four of Golden's recreational facilities: the seniors centre, the recplex, the swimming pool and the civic centre. These facilities are used by the municipal and rural populations, but currently paid for by only the municipal taxpayers.
A proposed agreement states that Area A residents will pay 20 per cent of the operating costs of those four facilities, to a maximum of $120,000 annually. The agreement will go to a referendum in October.
"This is another part of our asset management strategy," Oszust said. "We need to be able to pay for the facilities and their maintenance, or we'll have to shut them down. That's a reality."
On the horizon
Oszust listed a number of upcoming projects:
Phase 4 of the completion of the Trans-Canada Highway over the Kicking Horse River: This is a five-year, $440-million plan beginning in 2019. This massive project will bring an influx of people, employment and need for services and housing.
The replacement of the Highway 95 bridges over the Kicking Horse River: Golden has been in conversations with the Ministry of Transportation & Infrastructure, ensuring the project will be done to the benefit of the community. It's a large, complex project with concerns for access and egress, business continuity and long-term esthetics.
Currently, municipal governments get revenue from only one source—property taxes. A UBCM position paper called Strong Fiscal Futures has laid out options for assisting small communities to have more revenue streams to further enable them to meet their needs.
"We will continue to advocate for that on our own behalf and for other small communities," said Oszust.