From childhood dream to industry leader: Carving a path with International Timberframes in Golden
Sigi Liebmann embraces innovation and sustainability as he evolves his longstanding timber frame business and realizes his dream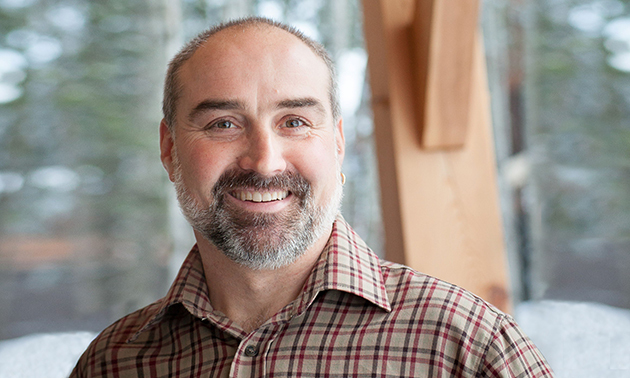 Sigi Liebmann, the visionary founder of International Timberframes, transformed his childhood fascination with timber framing into a thriving enterprise. Growing from an eager young apprentice into an industry expert, Liebmann's unwavering passion for the craft has driven him to establish a company renowned for its exceptional craftsmanship and commitment to quality. We had a chance to chat with Liebmann about his journey, the projects that hold a special place in his heart, and how International Timberframes is pivoting to meet the ever-evolving demands of the timber industry while prioritizing sustainable practices.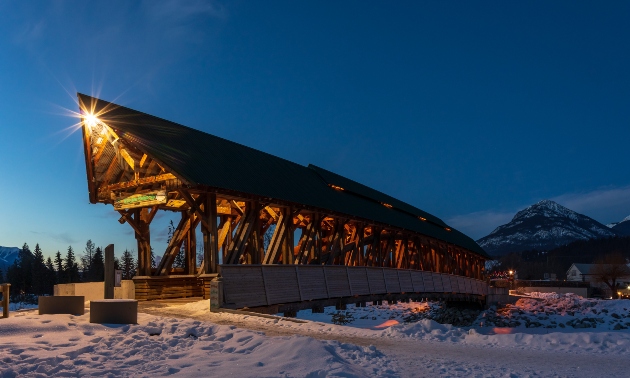 - The Golden pedestrian bridge, photo courtesy Best Impressions Photography
I understand you've been in business for 20 years! To what do you attribute your success?
I started my company with almost 20 years of experience in the industry. Since then, we have been constantly learning and improving our quality and craftsmanship. Our clients know that we are the wood specialists. We are capable of doing complex structures using rough sawn material, hand hewn pieces or four-side planed and sanded beams. We get hired for challenging repairs as well. We do small pieces to larger commercial mass timber projects. To summarize, we are flexible and capable craftspeople that can take on many different projects.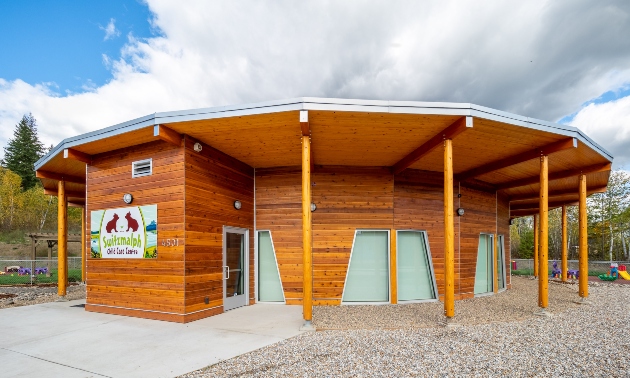 - Neskonlith Childcare Centre, photo courtesy Maur Mere Media
How did you first get interested in the timber framing industry, and what motivated you to start your own company?
Somehow I knew in Grade 1 that I would like to be a timber framer. At age 12, I started summer jobs in the local timber frame company and enjoyed it from the start. At 14, I signed the contract for an apprenticeship and started it at 15. This was in 1986. After finishing the apprenticeship, I went to the technical school in Biel, Switzerland.
It became my dream to own my own company at some point. After travelling for a bit and moving to Canada, Golden seemed a great place to start my own company.
Can you tell us about some of the most unique or challenging projects you've completed, and what made them stand out?
The new Erica Jane Restaurant in Kelowna. The project involved a complex mass timber built on top of a cool metal structure.
All projects involving hand hewn and reclaimed timbers—this really shows the craftsmanship and knowledge of the trade.
Repair of the timber pedestrian bridge in Golden because it involved challenging problem solving.
The Sentry Mountain Lodge at Golden Alpine Holidays required remote installation with a helicopter.
The Neskonlith Childcare Centre, a round building with a different sloped roof. This also needed some challenging problem solving.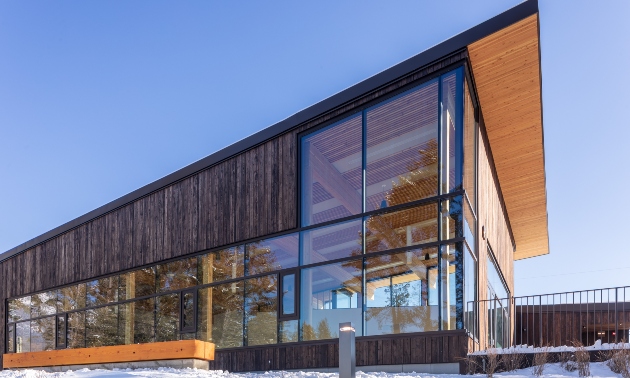 - The Radium Community Centre with DLT (dowel laminated timber), photo courtesy Best Impressions Photography
How have you seen the industry evolve since you first started your business, and what trends do you anticipate in the coming years?
The industry has certainly moved from traditional timber framing to mass timber. Also, the work on site has moved more into prefabrication and modular construction. International Timberframes follows this trend too. We produce a mass timber product here in Golden, B.C. It is called Wood100® DLT (Dowel Laminated Timber). These mass timber panels are fastened with only wooden dowels—no glue, no nails, just natural materials. We like to produce the healthiest, most sustainable homes that will last for generations.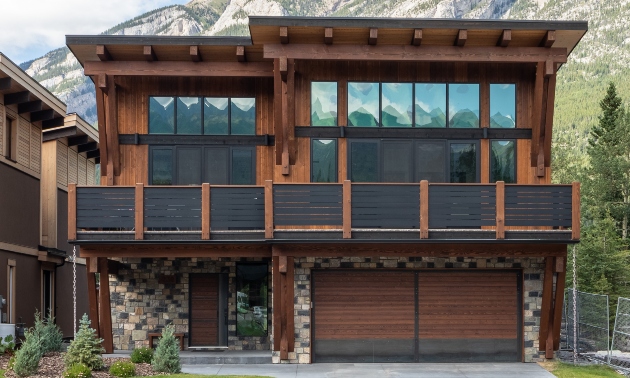 - Custom timber frame home, photo courtesy Best Impressions Photography
What advice would you give to someone who is interested in pursuing a career in timber framing?
Find a company that cares about the trade and trains you from the bottom up and passes on the old traditions and skills. After that, you stick with it and have fun learning more. You can only get good at anything if you do it for a long time and love it.
Is there anything else you would like our readers to know about you?
With the future in mind, and as the interest in building with 100 percent mass timber grows, International Timberframes is excited to announce the building of a new head office and mass timber production facility in Golden. With support from the federal government's Green Construction through Wood Program, the new facility will be the culmination of several years of planning, collaborating with wonderful architectural and engineering partners and absolute determination to continually be as sustainable as possible. The facility will be the timber framing workshop and production facility of 100 percent wood dowel laminated timber (DLT).
Built to passive design principles, with geothermal and photovoltaic power, the facility will target net-zero carbon and implement a "whole wood" approach. 80 percent of the construction materials for the new facility will be wood-based and harvested within the Columbia Valley, reducing up-front embodied carbon and transportation-related carbon emissions. The whole wood approach maximizes the value of wood, endeavouring to utilize 100 percent of a tree's wood and bark fibre.
We are extremely proud to be championing the production of this innovative sustainable DLT product right here in Golden, B.C.