Columbia River Catering Co.: A kind of love story
Dan Bracko's food creates heart-to-heart connections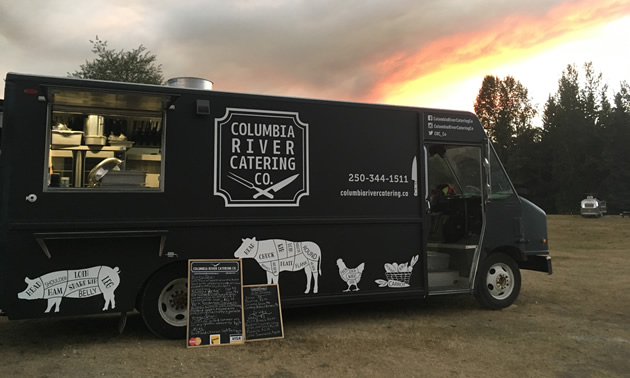 Dan Bracko's long-standing passion to create wonderful, beautiful, memorable food took him to New Zealand in 2008, during the off-season from his position as executive chef at the exclusive Heather Mountain Lodge near Golden, B.C.
In New Zealand, Bracko found a short-term job in the kitchen of Amisfield Winery, and a long-term love named Carrie Bagshaw.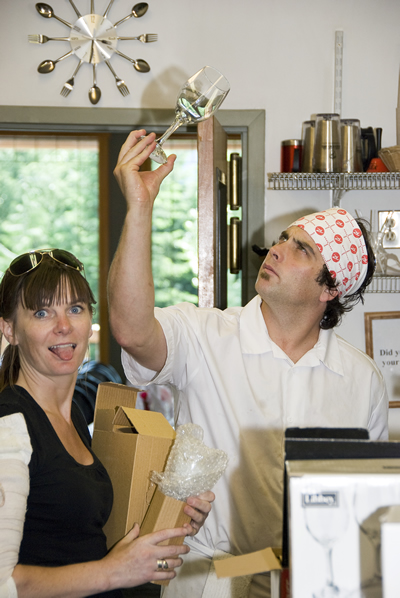 "One day," Bracko said, "I came to work and pushed through the swinging doors of the kitchen into the restaurant, and bumped head-on with this beautiful, glacier-blue-eyed English girl, and I immediately thought, 'Whoa. This might be trouble.'
"From that point on we were pretty much inseparable. Carrie came back to Canada with me and we spent about five years working at the lodge, where Carrie quickly became the general manager. It was fun to work together."
In their workplace, the Brackos exercised their creativity by growing a vegetable garden, raising chickens and ducks for meat, and hosting wild foraging events led by a professional forager. The guests would turn in their harvest and Dan would incorporate it into a four- or five-course dinner paired with local B.C. wines.
This satisfied Dan's interest in hunting and wild foraging, and in how people in the Columbia Valley have been feeding themselves throughout history. All of this experience was invaluable for the couple when they started their own business.
Dan and Carrie worked together at the lodge until, when they were expecting their second child, they decided it was time for a more settled lifestyle in Golden. They left Heather Mountain Lodge and began seeking another opportunity.
Dan enrolled in the East Kootenay Self-Employment Program, where he received focused training, mentorship and guidance, and formulated a business plan that was well received by potential lenders. However, because first-time hospitality businesses have a high failure rate, BMO, RBC and CIBC refused to finance his venture.
"Luckily," Dan said, "based on the merits of my business plan, Community Futures was willing to do a loan for me, and so was the Business Development Bank of Canada and the Columbia Valley Credit Union. I was lucky to keep my financing local—I know these people, and they know me. I have a lot of gratitude to these lenders and also to the self-employment program.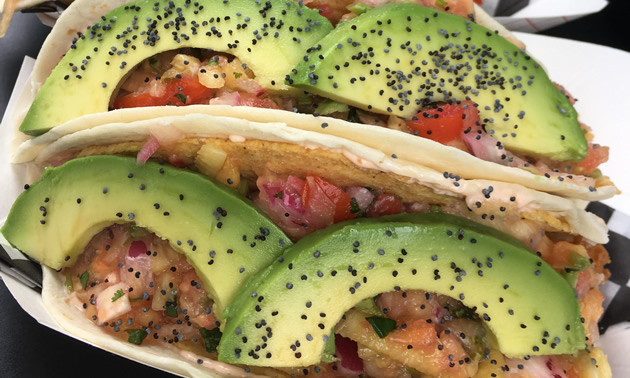 Owners of another catering business that had recently closed its doors were happy to sell some equipment to Dan, and kind enough to refer former customers to him to help him get started.
Dan opened Columbia River Catering Co. (CRCC) in May 2017. He was initially based in a commercial kitchen, and when the loans became available he was able to have a custom mobile kitchen built.
"I knew that private catering would be about 50 per cent of our business," he said, "and I couldn't produce the kind of food I wanted to serve with just a fryer and a flat-top grill, like you find in most food trucks. Weddings for 200, private business lunches and other special events require more sophisticated equipment."
The CRCC truck is a converted 8.2-metre Canadian Linen van that is stacked with equipment: a professional, bakery-style convection oven, a six-burner range with a deck oven, one deep fryer and a barbecue-style grill, along with freezer, fridge and a three-sink dish-sanitizing system, are the big pieces.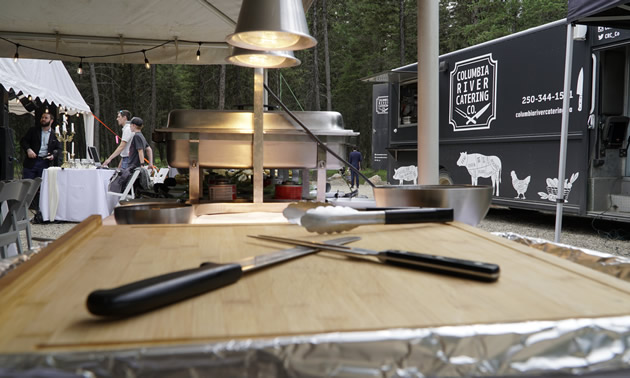 "I think two things are especially important to a restaurant's survival," Dan said. "First, location, and second, concept. We're striving to create awesome food memories that tie together the physical senses with the sense of place and history."
After cooking professionally for well over 20 years, Dan still likes to see the expressions on the faces of his guests as they taste his food. Years after attending an event catered by CRCC, people will remember what they ate—the food, the edible flowers and the beautiful presentation.
Along with providing nourishment, Dan's food contributes to lifelong memories that combine beauty, fragrance, flavour and a sense of occasion. He appreciates his luck in having work that allows him the creative opportunity to enrich people's feelings, experiences and memories. That's what keeps his passion alive and strong.