New leader, same philosophy for Columbia Basin Trust
Johnny Strilaeff, experienced second-in-command, steps into the top role at Columbia Basin Trust.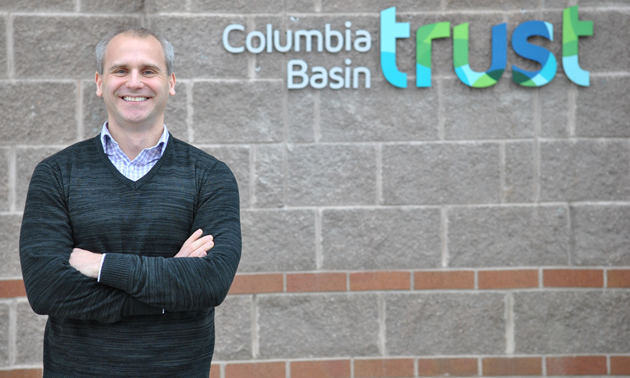 Johnny Strilaeff, former Vice-President and Chief Operating Officer of Columbia Basin Trust, said that in his new role as President and CEO, he will rely on his experience as a Basin resident and on his work experience with the Trust since 2005.
"I benefit from an understanding of this region that you can't have if you haven't actually lived here," said Strilaeff. "I have relationships in all of our communities, each of which has its own identity.
"(Former President and CEO) Neil Muth and I worked together closely. We shared similar philosophies, though we had somewhat different styles. There will be no change in the strategic direction of the Trust or how the Trust engages with communities."
Strilaeff spoke with us about his work with the Trust.
What strengths do you bring to this position?
A lot of my professional background was in the financial sector, and my early career was with businesses of many sizes, in many sectors. I developed an understanding of the nuances of managing an institution. Working in the field with business owners gave me a different perspective on the importance of relationship. I enjoy developing relationships because I'm genuinely interested in people and what's important to them.
What is your leadership style?
I think I'm personable and open. I love new ideas and constructive and participatory debate. I recognize the importance of planning, but I really embrace and excel at action and achievement.
Please tell us about some of your achievements.
I'm proud of the work that the Trust started in 2014, when we went to the communities in this region and asked, "What is important to you?" We wanted to understand where we should focus the Trust's resources—how we could most effectively support efforts to realize the priorities. That work revitalized the Columbia Basin Management Plan, which has guided us since the organization began. It's set our strategic direction to at least 2020.
What were some highlights for the Trust in 2016?
Starting an impact investment fund with Community Futures, and a credit union to provide money to businesses unable to secure funding from traditional lenders;
Committing $15 million over the next three years to develop affordable housing;
Protecting our ecosystems, power generating systems and economy from invasive mussels;
Continuing to expand our broadband network to enhance connectivity, particularly in rural communities;
Establishing a recreation infrastructure grant program and funding 62 projects.
What actions will you take in 2017?
Our strategic direction has been shaped by active engagement with residents—13 priorities came out of our planning, as outlined in the Columbia Basin Management Plan. We're developing meaningful programming for those priority areas.
Is there anything you'd like to add?
The Trust is a place where I am challenged professionally and enjoy so much personally. Every morning I am excited to come to the office and could not have imagined that I would have the honour of leading this organization.