Creative Thinkers: Artists Thrive with Science & Technology is a free event for youth aged 12-18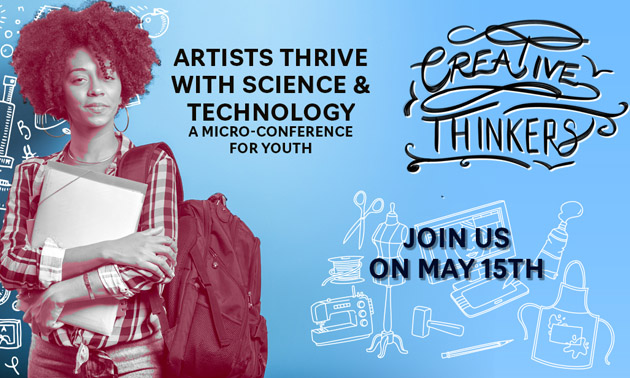 A FREE event exploring careers in creative fields using science and technology will be offered to Kootenay student-aged youth as part of the National Science Odyssey Campaign. Creative Thinkers: Artists Thrive with Science & Technology, will take place on Saturday May 15, 2021 at 10am PST via ZOOM. The event for Kootenay youth, aged 12 to 18-years old, will focus on the significant outcomes when creatives integrate and use STEM (Science, Technology, Engineering and Math) to produce their work in an applied art or creative design field.
Creative Thinkers has been developed to engage young people interested in the creative disciplines, but are also science and technology-focused. GLOWS (Growing & Learning Opportunities with STEAM) encourages the next generation to combine elements of art and creative design with STEM-based thinking to become tomorrow's leaders.
Registration for the FREE event can be found at www.kast.com/creativethinkers. GLOWS will host several creative professionals who work with and in STEAM (Science, Technology, Engineering, Art and Math) fields. Speakers at the event include birr agency's graphic designer and woodworker, Nick Marks, Jonathan Boreham from The Sound Fundamentals, and Erich Leidums of That Mountain Life among other successful Kootenay creatives.
Participants will have the opportunity to interact with the speakers, who will discuss their education and career journeys and showcase the possibilities of combining a passion for the arts with science and technology.
The free Creative Thinkers micro-conference will be held over four hours online, via Zoom, and will focus on how creative arts professionals can work with STEM tools to contribute to their achievements and grow their businesses, skill sets and career opportunities.
The event will be provided by KAST's (Kootenay Association for Science and Technology) GLOWS (Growing & Learning Opportunities With STEAM) youth program and event partner birr agency, Kootenay Business and Science Odyssey. Other event sponsors are The Sounds Fundamentals, Shred Kelly and That Mountain Life.
The KAST GLOWS program aims to provide children and the youth of today with events, activities and support that inspires them to become the next generation of creatives, engineers, scientists and more.