Connect with farmers, homesteaders and food producers at the Young Agrarians Mixer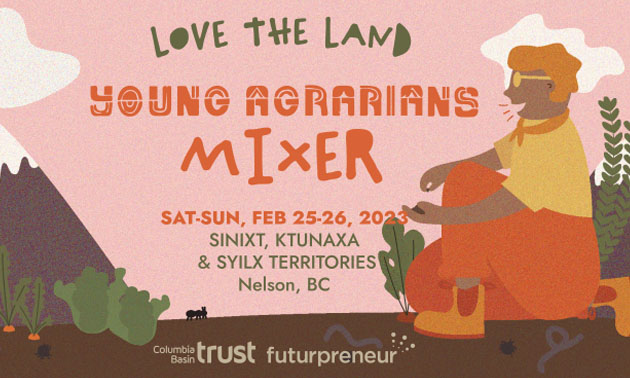 The Young Agrarians (YA) is hosting a two-day Mixer packed with farm workshops and networking on Sinixt, Ktunaxa and Syilx Territories at Wildflower School in Nelson, B.C. on February 25-26, 2023. This will be an opportunity to engage and connect with others, share ideas, and access the knowledge and experience you need to build your farm for success.
We are working hard to bring you a full and inspiring Mixer agenda, with many opportunities to connect and build relationships. There will be open discussions and formal presentations – something for everyone. Based on feedback from the region, participants can expect workshops on topics such as composting, drought & climate resilient farming, season extension, Indigenous & traditional food systems, no-till, soil health, nurseries, bookkeeping, land access, and co-operatives. There will be something for everyone – whether you're growing vegetables, fruit, flowers, herbs, perennials, mushrooms, livestock and more.
YA Mixers are known for the remarkable connections made, such as new possibilities for selling, meeting someone with the land that you would like to work, or identifying a shared interest or resource. To make the most of this event, come to the Mixer with an openness to meet new people, share something that you have to offer (like employment, land, or special skills) and something that you might need (such as specific tools, crop planning models, or mentorship).
When: Saturday and Sunday, February 25-26th, 2023
Location: Wildflower School – 811 Stanley Street, Nelson, BC, V1L 1N8
Cost: The ticket price is a suggested sliding scale of $50 to $100 and includes delicious food and education for Saturday and Sunday. All funds raised go to covering the cost of the event.
For more information and to register, visit: youngagrarians.org/cbmixer2023
The Young Agrarians/Columbia Basin Mixer is funded by the Columbia Basin Trust and Futurpreneur. Thank you to our funders and sponsors. To learn more about this event, please contact: Michalina Hunter, Columbia Basin Mixer Organizer. Phone: 1-855-561-4633. Email: [email protected]