Out of the ashes
2011 will be an exciting time for Elkford, when the town sees the construction of a new community centre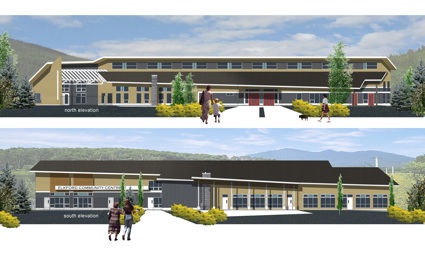 Long before he became mayor or before the old Elkford Elementary School burned down, Dean McKerracher dreamed of a new community centre for Elkford. Seven yeas ago, when he was an alderman on the Elkford City Council, he and a councillor proposed that the District of Elkford purchase the former Elkford Elementary School and transform it into a community centre. The school had closed and was gradually becoming more dilapidated, though it was in a prime central location and on nearly seven acres of land. The transformation would never happen; after the District purchased the building, it succumbed to fire in 2007.
Over the past several years, the District has secured a total of $3.567 million in insurance funds. The first plans for a new centre were created in 2008 and 2009, and reflected a building that would have cost roughly $14 million. The building was rejected by Elkford residents during the 2009 by-election, but the ideas were put to good use when council approved a plan for a less expensive building. The insurance funds would cover the structure and other funds, such as grants, would cover additional aspects of the building, including furnishings.
"When the residents decided they didn't want the $14 million building, council took that info that the committee had put together," said McKerracher. "They chose the top priorities for the building—a new banquet facility, rooms for seniors and youth, the playschool on the ground level and an (outdoor) play area."
McKerracher said that the new facility—designed by Associated Engineering—will complement, rather than replace, the old community centre. The 37-year-old building houses a play school, banquet hall, kitchen and meeting rooms, all which will be relocated to the new centre. When the new centre opens, it will be repurposed.
"It's serviced us well," McKerracher said, "but the demographics of the community are changing."
The 1,579-square-metre new centre will be a single-story, easily accessible and eco-friendly complex. It will include a banquet hall, multipurpose rooms, an auditorium, a kitchen, reception area and visitors centre. McKerracher said that he wants to hang photos reflecting the history of the District of Elkford, as the town itself does not have a museum.
"It will be a modern-type building, with as much energy efficiency as we can put into (it)," said McKerracher. "We'll have one solar wall that's going to heat the air before it goes into the furnaces. Each room will have its own furnace."
McKerracher said he hopes that construction will commence in March. Currently, the City of Elkford is seeking a project manager, to be determined in January of 2011.