Meeting the demands
Elkford is eager to meet the challenges of growing tourism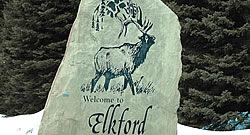 Founded in 1971 as a home for miners working in the newly established Fording Coal company, Elkford remains a community populated and supported mainly by the coal industry—69 per cent of the town's residents are employed in the mining sector.
However, tourism is bringing more visitors to the area than ever before, and the town is working to accommodate this influx. Increased mining activity and the growing number of investors in search of recreational property have created a housing crunch in Elkford.
Currently, there are no available homes on the market, and the town is actively trying to lure developers. Elkford's residents enjoy a higher-than-average income, a lower rate of unemployment, and some of the lowest property and municipal taxes in the region. Although below the provincial average, there has been a recent increase in home-based businesses.