Backcountry bliss
Elkford is a mecca of activity for winter recreation lovers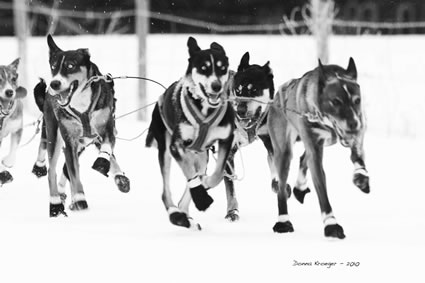 Renowned for its wilderness and lush backcountry, Elkford is the perfect choice for a winter escape. This friendly community has a range of seasonal activities and events.
For indoor fun, check out the Elkford Recreation Centre, where there is a hockey arena and a three-sheet curling club with a lounge and concession.
Off to the races
Every year, Elkford catches dogsledding fever, as the Wilderness Classic Sled Dog Derby comes to town. The next derby is slated to take place January 14 to 16, 2011.
The races take place during the morning and afternoon. In town there will be entertaining activities such as a kid's toboggan party, a snow sculpture competition, kid and mutt races, as well as a community supper and social.
Sled with the family
The backcountry trails surrounding Elkford make it a favourite for sledding. The area has both groomed and ungroomed family trails, with alpine scenery to amaze you along the way. The Round Prairie staging area 4.5 kilometres north of town is the central point of the local trail system. The Elkford Snowmobile Club works hard to maintain the trails, and they support the Wilderness Sled Dog Derby and other local events.
The slopes beckon
Skiers looking for a great time should visit Wapiti Ski Hill, a volunteer-run skiing facility with seven runs over a 1,000-foot vertical drop. There are both beginner and expert runs available, so everyone can join in the fun. A lodge and concession are on site.