Art meets lifestyle in Elkford
The wilds surrounding Elkford, B.C., won the heart of glass artist Katherine Russell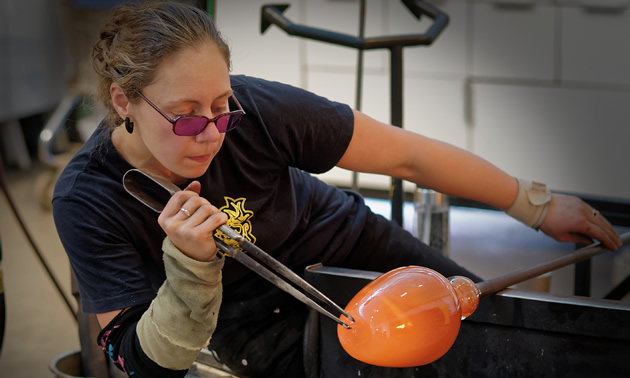 When Katherine Russell talks about her work as a glass artist, she uses odd words like coldwork, fusing and slumping. The activities she engages in to produce her art—like sandblasting, grinding, polishing and sawing—could apply to the work of a muscular tradesperson. Photos of Russell at work demonstrate that producing her art has both physical and creative sides.
Russell met her husband, Jim, in Cornwall, England. The couple lived in Calgary for a period, then spent time in Italy and Australia before returning to Canada. They chose to settle in Elkford because of its easy access to the Nordic skiing, hiking and mountain biking they love, and housing that they could afford. Jim works as a mining technician in the Elk Valley.
"Initially when we moved to the valley we looked at moving to Fernie, because I'd have much more tourist traffic to my gallery," Russell said. "But the space we could afford there was so small that I couldn't work in it, so cost of housing became a big thing. In Elkford we could afford a larger home that has a big studio, and I don't regret our choice at all. It's worked out really well. But I don't have any tourist traffic coming through my studio, so there's a give and take there."
Other than pieces done to her clients' specifications, the theme of Russell's work is wide open. She uses colour, lines, shapes and various techniques and finishes to refine her art, some of which is functional and all of which is striking.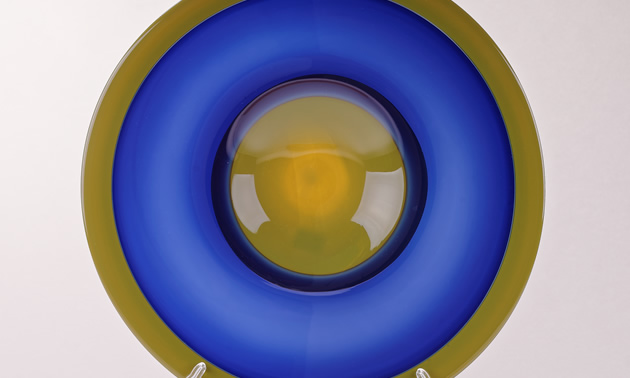 "Finding inspiration and ideas is so much fun," Russell said. "The easy part is imagining what I could do. The much harder part is making it a feasible, financially viable project."
Some of Russell's work is not intended for sale—like much art, it's not necessarily pretty. For this non-commercial work, she applies for grants. Once she's completed the detailed, time-consuming application, she submits it to the potential funder, and then she waits. Sometimes for months.
"And maybe you get it but likely you don't," she said. "If you do, then you can go ahead and order the supplies and get to the fun part. I started today with a whole bunch of boring computer jobs—there are way more of those than I would like. The fun part is being in the studio fabricating the work or in my sketchbook drawing new work."
Though Russell can do much of her work at her home studio, she spends one weekend each month at Firebrand Glass in Black Diamond, Alberta, where she does her glass blowing. During the Black Diamond weekend, she delivers new work to the Glenbow Museum and F2 Furnishings in Calgary. On weekends when she's travelling west, she makes deliveries to the Eye of the Needle gallery in Fernie.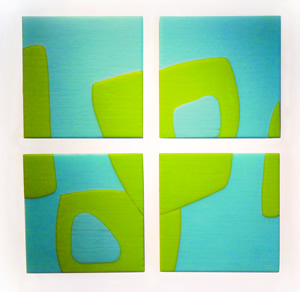 "The crates of sheet glass (from Bullseye Glass Co. in Portland, Oregon) are delivered to my studio by truck," she said. "The glass is extremely heavy and fragile, and the delivery guy always manages it with a smile, bless him."
Russell uses Canada Post to deliver her finished pieces to buyers across Western Canada. She packs and crates the fragile pieces carefully—they're quite dear to her at that point—and she's never lost a piece to breakage during shipment.
In terms of marketing, Russell acknowledges that she has some work to do.
"I would love to use the Internet an awful lot more, but that's not my strength," she said. "My new website is up now, which is good, but I need to do a lot more marketing online. I want to make more time to improve my skills—I know that's crucial. I need to make that a priority for this year, and I need help."
Website: www.katherinerussell.ca