A centre of excellence
The Elkford Community Conference Centre is an award winner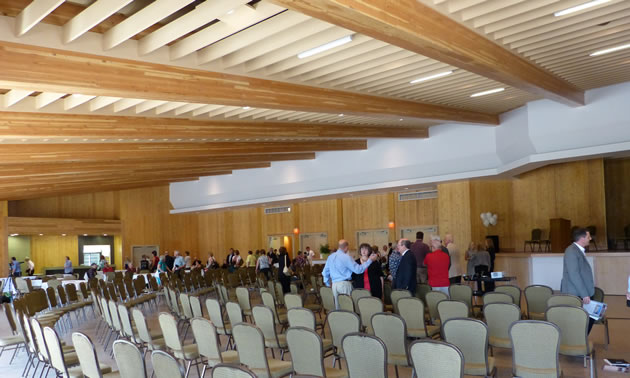 Wood WORKS! BC and the Union of British Columbia Municipalities (UBCM) praised the District of Elkford on the completion of its new $6.4-million Community Conference Centre at the 2012 UBCM Convention in Victoria, B.C.
At the convention—which took place September 24 to 28—Elkford mayor Dean McKerracher accepted an Annual Recognition Award from Wood WORKS! BC as well as the UBCM Community Excellence Award for leadership and innovation in the Small Community Category.
The Annual Recognition Awards from Wood WORKS! BC honour communities that have been exemplary advocates for wood. Elkford was one of five communities in the province to receive an award this year.
"We were very pleased that we won the awards," said McKerracher, speaking on behalf of the district.
Mary Tracey, executive director of Wood WORKS! BC, said communities such as Elkford have become increasingly interested in creating places that recognize the culture of their unique community and that reflect who they are and where they've come from.
Tracey explained why the Elkford Community Conference Centre was recognized: "This is a project which embodies the spirit of Elkford and has engaged its citizens—which means it will be meaningful and enduring."
The first of its kind in North America, the Elkford Community Conference Centre features cross-laminated timber walls and floors, glulam beams and structural insulated panels. It is constructed almost entirely of wood sourced from the East and West Kootenay. When it opened in June, the centre was one of three Wood Demonstration Projects the B.C. forest products industry had selected as a showcase for new workable wood solutions that have the greatest potential for commercial viability.