Welcome to Cranbrook—a.k.a. Winter Blitzville
Oh yes, there will be fireworks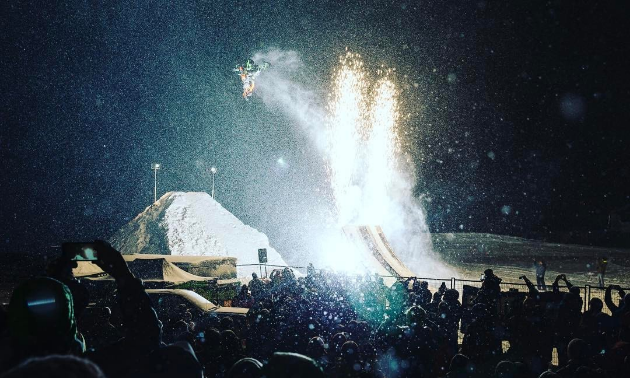 By the time February rolls around, many people are struggling to fight off winter blues, colds and boredom in equal measure. Alleviate these ailments by seeking out the cure—CBK-X Winter Blitzville, an outdoor, adrenalin-fuelled, extravaganza featuring X Games double-gold medallist Brett Turcotte doing rad backflips while colourful pyro ignites the jet-black skyline.
So, yeah, this event is gonna rock.
"We got bands, a snowboard rail jam and X Games snow riders going off ramps with fireworks going left, right and centre," said Paul Heywood, event organizer. "It's never been done before in any other city in B.C.—fireworks attached to the ramps, igniting in sync with the riders going off of the jumps."
Exploding rockets
This wonderful spectacle was borne of Cranbrookians' unfulfilled desire for pyro, pyro and more pyro.
"We've been looking for something that we can bring downtown that represents Cranbrook," Heywood said. "It all came about from the ban on fireworks during the summer. I was given the green light to do a fireworks display in the middle of winter and create a winter festival. We took that request and we turned that into the CBK-X Winter Blitzville.
"There'll be giveaways and incentives for the crowd. It's all about getting the crowd involved with the music, entertainment, stunts and fireworks. It'll be a fun, community event that showcases the city."
The coolest Family Day ever
In an effort to draw the maximum amount of spectators, CBK-X Winter Blitzville will be free and take place during Western Canada's lone long weekend in the heart of winter, February 16, 2019.
"Family Day is a great weekend to showcase the city," Heywood said. "We get a lot of Alberta tourists coming in. Everybody has the long weekend. For those that are in town, come and join the thousands that are going to take in the festival. At the end of the night, we're going to do a giant fireworks display. We haven't done major fireworks displays on Family Day—ever."
The man, the myth, the legend: Brett Turcotte
A convenient schedule and a fire-filled atmosphere aren't the only reasons to bear witness to CBK-X Winter Blitzville. World-class X Games snowmobilers Brett Turcotte, Cody Borchers and Daniel Shaffer will be dazzling the crowd with dizzying tricks.
"These guys do amazing things on snowmobiles—things that you should not try at home," said Heywood. "They're going off ramps doing stunts. You're going to see a backflip from Brett Turcotte. The crowd is going to be energized just to see him. He's one of the world's best."
As excited as spectators will be to see Turcotte up close, he's equally as stoked to pull off a few backflips down Baker Street.
"This event is going to be awesome," said Turcotte. "I'm really excited for this one. It's a show right downtown, which is awesome. It's really accessible for people to come take in the show. Myself and Cody Borchers will be doing backflips on our snowmobiles. We all have loud snowmobiles. It'll be a cool spectacle. The opportunity to jump down main street doesn't always happen that often. Events like this are really fun. They're cool for me. Hopefully everyone can come out and enjoy it. We're gonna put on a good show."
A touch of gold
When the two-time gold winner isn't mesmerizing awestruck onlookers with his sick tricks, he'll be interacting with them.
"We'll be doing an autograph signing and riding by the fans at the end of each show, giving high fives and thanking them," he said. "I travel with my gold medals. People can check them out, feel them and touch them.
"Fan support is what keeps these events happening. There's definitely a vibe felt when there are thousands of people watching. You feel the energy and excitement. It makes the rider perform better, for sure. It's more motivating. When a rider gets into that mindset, you never know what's going to happen."