Top 10 East Kootenay golf courses
The East Kootenay region boasts some of the most enthralling golf courses in Canada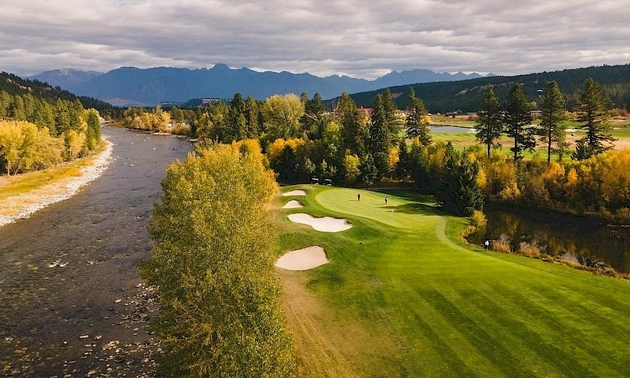 Golf is a notably popular sport in the East Kootenay region, and even seasoned players are routinely blown away by the selection of high-quality courses dotted throughout the area. These are just 10 of the must-play golf resorts in the vicinity.
Location: Cranbrook, B.C.
Par: 72
Yardage: 7,007
What makes it special: St. Eugene Golf Resort offers views of the Rocky Mountain Trench, the St. Mary River and Fisher Peak. In honour of the resort's history and location on First Nations land, the course now has signage in place with Ktunaxa names for all 18 holes. The signs were lovingly crafted from pine beetle–damaged wood and each one displays a Ktunaxa traditional expression along with the phonetic spelling and English translation.
Location: Cranbrook, B.C.
Par: 72
Yardage: 7,405
What makes it special: This 18-hole championship course was designed by Cooke Carleton International Golf Course Architects. Five tee boxes accommodate golfers of any skill level, but watch out for the infamous signature Hole 17, dubbed "The Monster."
Location: Cranbrook, B.C.
Par: 72
Yardage: 7,127
What makes it special: Wildstone Golf Course was created by Gary Player Design and is set on the highlands above Cranbrook, granting excellent views. The signature Hole 9 and other features have garnered rave reviews from Golf Digest. Wildstone has a practice area with a spacious putting green, separate chipping green and driving range.
Location: Revelstoke, B.C.
Par: 72
Yardage: 6,537
What makes it special: The heritage-rich Revelstoke Golf Club was originally the site of horse races and other equestrian and agricultural activities back in the early 1900s. It became a golf clubhouse in the 1920s, and over the decades it's definitely seen some revamping, including a major overhaul by architect Norman Woods in 1974. This course continues to be a favourite among golf professionals, beginners and families alike.
Location: Fairmont Hot Springs, B.C.
Par: 71
Yardage: 6,347
What makes it special: Bill Newis designed this 18-hole course to be pleasantly walkable, taking golfers across the Columbia River and through a contemporary course layout. When you're finished at the Riverside course, be sure to try a round at the Fairmont Hot Springs Resort's Mountainside and Creekside courses as well.
Location: Kimberley, B.C.
Par: 72
Yardage: 7,157
What makes it special: A game of golf at Bootleg Gap means strolling alongside the clear waters of the St. Mary River while you take on an impressive 18-hole championship course. There is also an expansive practice facility and nine-hole recreational course on the property.
Location: Kimberley, B.C.
Par: 72
Yardage: 6,896
What makes it special: Trickle Creek Golf Resort was designed by Les Furber and has been awarded a bronze medal by SCORE golf magazine for being one of the best golf courses in Canada.
Location: Windermere, B.C.
Par: 70
Yardage: 6,807
What makes it special: Along with the Point (the other course at Copper Point Golf Club), the Ridge is a sight to behold. It's an exhilarating, Masters-style course and is conveniently located near the luxurious Copper Point Resort, so you can stay and play.
Location: Invermere, B.C.
Par: 72
Yardage: 6,646
What makes it special: Perched on a bluff with the sparkling Columbia River below, Eagle Ranch Resort awaits. The course is no piece of cake—you will find yourself challenged by ravines and water hazards along the way.
Location: Panorama, B.C.
Par: 72
Yardage: 7,140
What makes it special: A dramatic alpine location and dynamic course layout make this Panorama golf course stand out. Test your skills on sculpted fairways with tricky par-3 holes and elevation changes galore.
We've updated and expanded this list! Check out our new, more comprehensive guide to East Kootenay golf courses.