Retaining top talent in the Kootenays: From volunteer to vet tech
The Columbia Basin Trust's wage subsidy program helped to support a Cranbrook student on her career path.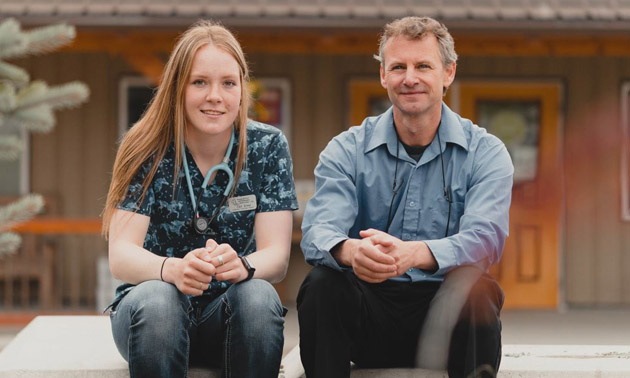 Veterinary clinics in British Columbia have been experiencing staff shortages for years, but the COVID-19 pandemic made a bad situation even worse. Pet ownership and adoption surged in the last couple of years and many veterinary clinics have experienced overwhelming demand for their services, coupled with a lack of skilled and qualified employees.
Jeff Cooper, Practice Manager of Tanglefoot's three veterinary clinics in Cranbrook, Fernie and Kimberley said, "Technicians are very, very hard to come by. We have ads all across the country right now for veterinary technicians, including moving bonuses and signing bonuses. We could probably use three more full-time technicians right now, between the different clinics that we have."
Meet Cali Emel. When she was 16, she brought a resumé to Tanglefoot Veterinary Services in her hometown of Cranbrook. Her goal was to discover a career path that would align with her passion for animals.
Tanglefoot took her on as a volunteer, and it quickly became obvious that the job was well suited for her. "I was hosing down the large animal barn, and it just clicked in me. I wanted to do this for the rest of my life," she said. "Every day I came to work I found it was a new adventure."
In addition, it was clear that she would be a benefit to the Tanglefoot team. "She was willing to learn, she was willing to jump in, and she was proactive about searching out ways to be helpful to us," said Cooper.
After two months of volunteer work, Cali's maturity, passion and work ethic got her hired as a weekend kennel assistant. After graduating high school, Cali enrolled in Thompson River University's Veterinary Technology three-year distance-education program.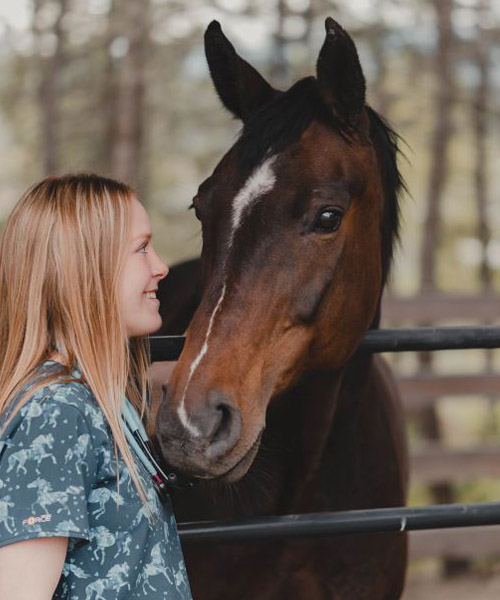 Tanglefoot promoted her to a part-time position as a Student Veterinary Technician. This was done with support from Columbia Basin Trust's School Works wage subsidy program, which helps Basin businesses hire full-time students for part-time work. By aiding employers while providing opportunities for students to gain career-related work experience, the wage subsidy program helps create a diverse and resilient Basin economy that is supported by strong businesses, a trained workforce and sufficient job opportunities.
Now 20, Cali will graduate in December 2022. Once she passes her licensing exam, she will become a Registered Veterinary Technician. She plans to stay in the region and at Tanglefoot, where she can continue to develop her skills and do what she loves every day.
Keeping skilled workers in the Kootenays contributes to the region's overall economic growth. Read the full story about Cali's journey from volunteer to vet tech and learn more about how the Columbia Basin Trust supports the ideas and efforts of the people in the Columbia Basin.