Mobile Recovery Milling: Transforming rural woodlands into bountiful harvests
Displaced waste, recoverable space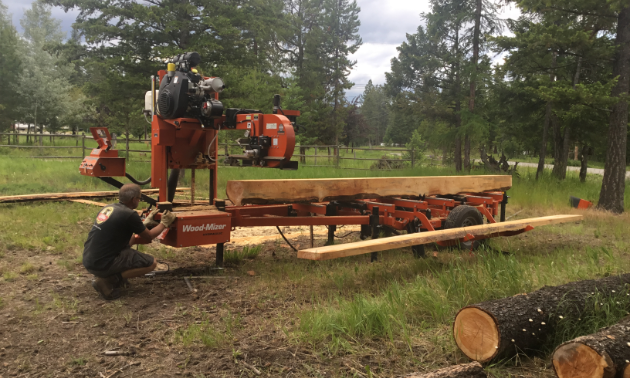 We all face crossroads in our lives. What shapes our futures are the decisions we make during those pivotal points in time. For Darrin Brown, a journeyman automotive and transport mechanic who has worked in the Cranbrook area for the last 30 years, that meant taking a few classes when he was out of a job.
"I had finished a seven-month kitchen renovation and the position at my previous employer was no longer available," said Brown. "I took a four-month business course through Community Futures and Service B.C. and developed a business plan."
That educational decision led to the creation of his small business, Mobile Recovery Milling, a portable sawmilling service that gives rural clients the ability to cut up unwanted trees into lumber products.
"I have seen a need for this type of business in our area," Brown said. "There are people in the RDEK (Regional District of East Kootenay) that do this service but there is no other business that takes their mill to the client's property. We also offer reclaimed furniture-grade lumber products salvaged off of Crown land logging blocks after the primary contractor has completed harvesting."
Another man's trash
Urban logging, utilizing trees that die naturally or need to be removed for development, isn't just convenient for rural homeowners, it's environmentally smart too.
"In most cases, it is not economically feasible to commercially utilize this wood fibre," Brown said. "We can pick up small loads of logs with minimal land disruption and use the wood fibre rather than burning it."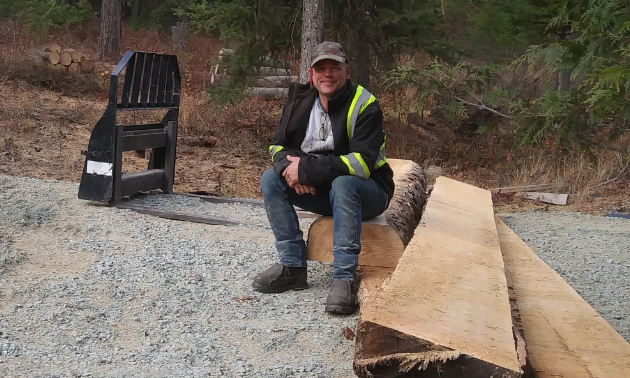 Besides serving a need throughout the RDEK, Brown's new business venture gives him purpose and joy.
"Mobile Recovery Milling revolves around doing the things I love to do," he said. "I like the fact that every day is different. I could be on someone else's land salvaging logs, cutting logs into lumber or building with the wood I have reclaimed. Working with wood, using material that is not currently being used and having lunch with no roof over my head while looking at a different view every day, sounds pretty good to me."
Growing pains
If this is beginning to sound like everything fell into place in an easy way for Brown, that would be an inaccurate depiction of how things actually transpired. Like anyone entering the small business arena, Brown faced his fair share of difficulties.
"I have worked for wages my entire life so creating a new business concept in our area has had many challenges," he said. "Computer work and research while writing my business plan have been interesting. It's much different than working with my hands every day. Marketing is a slow process since the people that will benefit the most from it need to get to know me. I have also had many challenges dealing with provincial ministries to get permits to legally operate."
Despite the issues, Brown keeps himself and his expectations grounded.
"I'm in the early stages of this business," he said. "I am exploring new ways of generating revenue for the company. The direction I may be going five years from now could be quite different than it has gone to this point."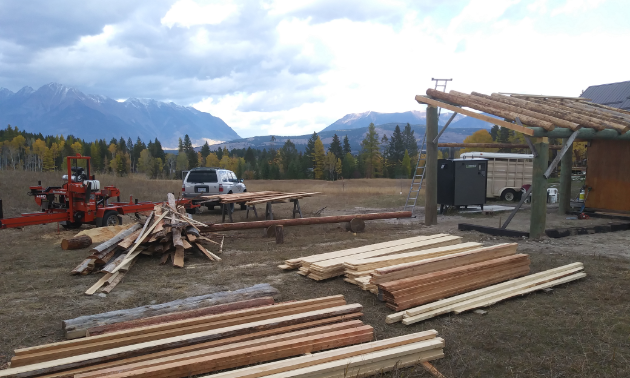 As anyone who has undertaken the gargantuan task of starting up their own business knows, it takes a lot of encouragement and perseverance to see their company succeed.
"I have had a lot of support from friends, family, other businesses in our region and my business advisor James Umpherson at Community Futures," Brown said. "I like the phrase 'there are two ways of doing things, my way and the easy way.' Hard work, patience and not losing sight of where I want to be with the business in the future are also very important."
Visions
It takes a special kind of mind to envision the potential of a pile of discarded timber. Through creative ingenuity, Brown has identified a need in the Kootenays and is actively making a difference in the region. If you're fortunate enough to have an acreage with a surplus of wood, imagine what those excess logs could become.
"My favourite part of my job is working with clients who want to turn the cut-down trees on their land into something other than firewood," said Brown. "Their eyes light up when they see what projects can be made from those trees."