Economic turnabout in Canal Flats
A large technology centre being built in Canal Flats gives the village a reason to cheer
Ute Juras, mayor of the Village of Canal Flats, learned about plans to build the Columbia Lake Technology Center (CLTC) just a short time before the news was shared with the public. On learning more about the scope of the new centre, she is filled with optimism.
"I'm very excited," said Juras. "We went from being down and out just three years ago, and now we've had this opportunity knock on our door. Now we can work toward something positive for the town, and I'm happy to be part of it."
Chris Fields, the economic development officer in Canal Flats, calculated that in order to sustain itself, the village should have a minimum population of 1,000 people. As a new source of well-paid jobs, the CLTC will certainly bring the current number of 668 closer to that target.
Current projections indicate that the CLTC will provide 100 new jobs by the end of 2018, compensating for the jobs lost when the Canfor mill closed in 2015. Juras speculated that, whether the new jobs are taken by current residents, by people living elsewhere in the Columbia Valley or by people who move to the Valley in pursuit of employment, the economy of the area will get a substantial boost.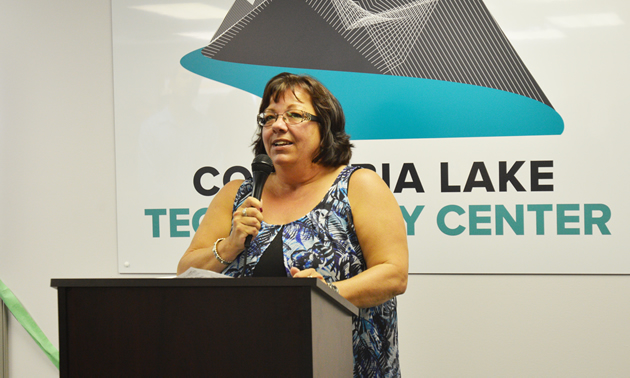 The benefits generated by the CLTC—in addition to the actual technology services it will provide—will extend far beyond the village. More well-paid jobs means more money in the economy. Housing will be needed, along with services for the newly employed, including daycares, coffee shops, restaurants, salons and boutiques, to name a few. And all of those businesses will provide employment as well as services.
"It will definitely impact the entire valley, and that's what makes this so exciting," said Juras. "Brian Fehr (the co-founder of the CLTC) is a real person who has a real interest in the community—he's been a homeowner in the valley for over 30 years. He's not just some investor that's going to fly in, take what he can and fly out again. He wants the best for Canal Flats, just like we do.
"We feel like we've kind of hit the jackpot here."