East Kootenay Community Credit Union celebrates 70th anniversary by giving back to community
As part of EKC's anniversary celebration, $45,000 will be donated to three area organizations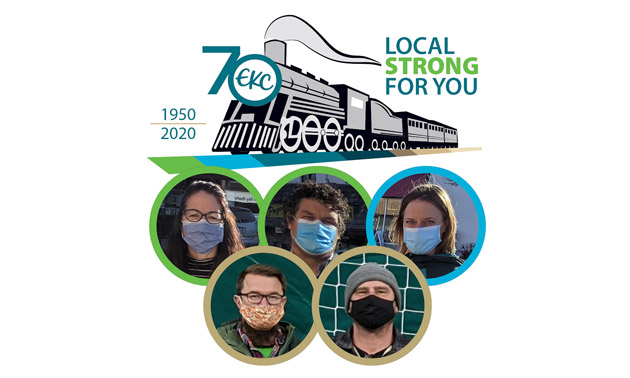 The East Kootenay Community Credit Union (EKC) has a long history of giving back to the communities that it serves. From a humble offering of financial assistance to an area resident back in 1950, the organization continues to be a cornerstone of the Cranbrook and East Kootenay region. December 14, 2020 marks the 70th anniversary of the credit union, and to help celebrate, the EKC Board of Directors is announcing an additional $45,000 in donations to build and support the community at a time when help is needed.
$15,000 donation for the Foundry East Kootenay
East Kootenay Foundation for Health (EKFH), in partnership with Ktunaxa Kinbasket Child and Family Services Society (KKCFSS), has launched the 2020 Starlite Campaign—Not Alone. It is one of EKFH's most important projects to date.
This year, they are raising $1.4 million to support the opening of Foundry East Kootenay—a new integrated youth and family care centre designed to provide critical mental health, substance use and primary care for our young people and their families. Everyone knows somebody who has been touched by mental illness or substance use in our youth. Mental health concerns and substance use can affect any person from any background. It does not discriminate. The local crisis will escalate with COVID-19, and the Foundry will change that.
"On behalf of the EKFH board and staff we would like to say how proud we are to partner with the Ktunaxa Kinbasket Child and Family Services for Foundry East Kootenay. Thank you to the East Kootenay Community Credit Union for your wonderful donation. It brings us that much closer to reaching our goal of $1.4 million!" said Brenna Baker, executive director of the East Kootenay Foundation for Health.
$15,000 donation for KEYSA's Multi-Sport Indoor Facility
A proud supporter of the Kootenay East Youth Soccer Association (KEYSA) since its inception, the East Community Community Credit Union has now donated over $28,000 to the organization since 2011, including jerseys and Sam Steele Soccer Tournament funding.
"On behalf of KEYSA and our project partners, we appreciate how our community has come together to support Cranbrook's new multi-sport indoor facility. The project set out to improve access to indoor recreation, both in diversifying opportunity and proximity. EKC's support exemplifies this theme perfectly by ensuring people with all mobility levels, from strollers to walkers, will have easy access to our facility," said Mike Robinson, vice chair of KEYSA.
$15,000 donation for Community Foundation of the Kootenay Rockies to support Cranbrook's Salvation Army food program
The Community Foundation of the Kootenay Rockies (CFKR) EKC Fund started in 2004 to support local Salvation Army food programs. Jean-Ann Debreceni, current EKC Board chair, played a key role in establishing this fund. EKC's initial donation of $10,000 plus the additional $15,000 recently announced has grown this permanently invested fund to over $130,000. In 2021, the fund will give back over $2,500, and in 2022 and beyond, the annual grant will grow to over $3,000.
Michele Bates, CFKR Board chair, commented, "The Community Foundation of the Kootenay Rockies sincerely appreciate EKC's vision and foresight in establishing this endowment fund. By starting this fund and continuing to contribute to its growth, EKC has also inspired other community members to contribute to this cause through the annual Hometown For Hunger events at Denham Ford as well as a major gift from an anonymous community donor late last year."