Deer-resistant plants: Avoiding destruction in your garden
There are many deer-resistant plants available, including varieties that are native to the Kootenays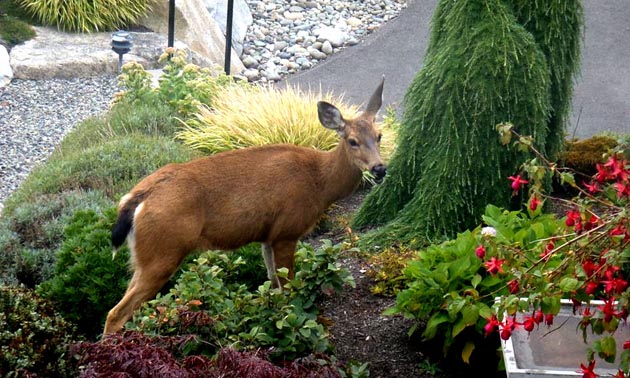 The allure of the Kootenays is indisputable—mountain vistas, fresh air, endless outdoor recreational opportunities and friendly communities. What's not to love? Well, for the gardeners among us, there is most likely one bane to our contented Kootenay lifestyle: deer.
I'm sure many of us have experienced the frustration of finding prized blossoms nibbled off in the night, ripe and ready-to-pick veggies violated and showy shrubs shamelessly devoured by deer. Grrrr! What's a gardener to do?
Thankfully, there are many species of flowers, shrubs, vines and trees that are deer-resistant, including species native to our region. According to the Kootenay Native Plant Society, perennials such as aster, milkweed, yarrow, lupine and goldenrod are native to the Kootenays, along with shrubs such as mock orange, Oregon grape and red-flowering currant. Equally important, these species will also attract a diverse array of pollinators throughout the growing season.
Unfortunately, some popular and readily available deer-resistant plants are also considered invasive species in British Columbia. A favourite plant of florists (and myself) is baby's breath. I knew it was resistant to deer, but I had no idea it was an invasive species. The Invasive Species Council of BC has published an informative and helpful booklet—available online— that lists these invasive species, along with recommended alternatives.
Of course, no garden is immune to the occasional nibble. According to the Victoria Master Gardener Association, fawns will try just about anything— much like their human counterparts!
Here are some other helpful tips to keep in mind:
The most reliably deer-proof plants are those with strongly scented foliage like lavender, marigolds, peonies and most herbs.
Fuzzy-leafed plants and plants with silver or grey foliage, such as dusty miller, are unpalatable to deer.
Deer avoid foliage that is prickly or leathery, such as holly. Strangely, though, deer tend to love roses.
I've found that visiting my local garden centre, talking to fellow gardeners and experts, and seeing the types and varieties of deer-proof plants available in my region are immensely helpful.
Top Crop: Garden, Farm & Pet—with locations in both Cranbrook and Kimberley—carries an extensive range of locally-grown, deer-resistant plants, shrubs and trees. The staff are very knowledgeable and helpful and can assist in choosing suitable varieties of plants for your garden space. And if your frustration levels are too high, Top Crop also carries numerous fencing options, as fencing is essential for your vegetable garden. Top Crop Farm, Garden & Pet is currently accepting and encouraging phone orders. Let us know what you'd like to purchase and we'll bring your order out to you curbside. Give us a call at 250-489-4555. Our greenhouses are currently closed but the store is open—there is a limit to how many customers are allowed in the store at one time to encourage social distancing.
Armed with a little bit of knowledge and foresight, planting a beautiful garden that the deer won't nibble to the ground is possible in the Kootenays.