Commentary: The long (and painful) farewell to the Ice: It's all a business decision
The WHL and Ice ownership have confirmed in a news conference that they are moving the franchise to Winnipeg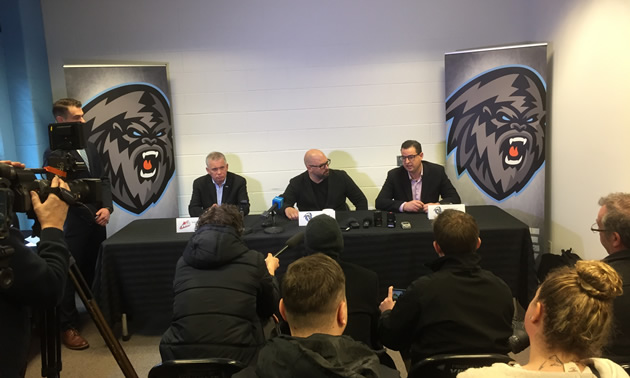 It would appear that it's only days or weeks before the "official" announcement from the owners of the Ice (once known as the Kootenay Ice) that they are re-locating the WHL franchise to Winnipeg, ending the painful drip-drip of unconfirmed news reports and rampant rumours being trotted out by the Winnipeg media, who are clearly getting inside information on the move from "anonymous sources" within or with ties to the organization.
When it's all said and done several thousand Cranbrook/Kootenay fans will feel jilted, probably not unlike how numerous other fans who have felt when their favourite team packed up and moved on – the original Victoria Cougars (to Prince George), Chilliwack Bruins (to Victoria), Winnipeg Warriors (to Moose Jaw), Lethbridge Broncos (to Swift Current), Edmonton Ice (to Cranbrook), Quebec Nordiques (to Colorado), Hartford Whalers (to Carolina) Atlanta Flames (to Calgary), Atlanta Thrashers (to Winnipeg), Seattle Supersonics (to Oklahoma City) Vancouver Grizzlies (Memphis) and maybe the most painful of them all – the Montreal Expos (to Washington).
Putting the fans emotional attachments aside, it inevitably boils down to a business decision or so the Ice ownership will tell you. A business decision, that I believe, was in the works long before the current Ice ownership parachuted into Cranbrook, firing their coach—one of the sharpest young minds in hockey—and giving the rah-rah impression that they were here to turn the struggling franchise around.
It's true — it is a business decision! A global business decision at that. Mr. Fettes, owner of the Ice, has a grand vision for his Winnipeg franchise (rumoured to be called the Winnipeg Falcons and not the Ice – though that seems a bit of stretch) which includes a massive 95,000 square foot hockey training facility called The Rink featuring three ice surfaces, an entertainment complex, a field house with indoor track and soccer, outdoor amphitheater, outdoor rinks, sports and wellness clinics, restaurants and retail outlets. A project this massive has been in works far longer than the Ice ownership has been in Cranbrook. Something on this scale is not put together in 12 to 18 months – it would indicate years of negotiations, financing and land acquisitions.
Why do I say it's a global business decision? Mr. Fettes is more than a poster boy for economic development in Winnipeg – transforming an empty Target store into a 500 - 1000 person call centre in a rejuvenated part of the city called Polo Park. An article in the Winnipeg Press says his company, 24-7 Intouch, employs 15,000 people, many in third-world countries like Guatemala, Honduras and Manila, and, of course, Winnipeg. His wealth comes in large from operating a global enterprise that happens to be based in Winnipeg.
24-7 Intouch, the largest private-sector employer in the Manitoba capital, is described as being in the forefront in outsourced customer-contact business and they are currently developing the use of artificial intelligence in their call centres. So, when you get one of those robo-offshore calls at supper time – remember you might have Mr. Fettes to thank.
It is somewhat ironic that the West Kootenay economy is also being impacted by global business decisions. Nelson's largest employer, Pacific Insight Electronics (PIE) with a recent workforce of nearly 400, is shuttering their 165,000 square foot manufacturing facilities, packing up and heading to Mexico – easier market access, cheaper labour and lower taxes. The company sold a year or so ago to Chicago-based, Methode Electronics, a multinational, that actually saw PIE's sales go up last year to $38 million.
Back to the business of hockey. Yes, hockey is a business and Greg Fettes, an acknowledged multi-millionaire, probably paid somewhere in the neighbourhood of $4 to $5 million dollars to purchase the Ice franchise from the Chynoweth family. (The OHL's Mississauga hockey team sold for a reported $4.56 million). With Seattle paying $650 (US) million to obtain an NHL franchise, whatever the Ice purchase price was looks like somewhat of bargain – mere pocket change for Mr. Fettes.
So let's be clear, Mr. Fettes is NOT stealing the Ice from Cranbrook. He rightfully owns the franchise with the WHL's approval and blessing. It is his investment, along with minority owner, Matt Cockell, to do as he sees fit in enhancing his financial holdings – and it would appear he is bent on making the Ice the cornerstone of his 20-acre sports and entertainment development. It seems to be a sound business decision, that is, from everywhere but in the stands of Western Financial Place.
The moving of the Ice is dependent on the WHL's board of governors (owners) majority approval. Some say it's a foregone conclusion, while others aren't quite so sure, arguing many western teams are not that keen on the Winnipeg idea. While the WHL has long craved an eastern-based franchise to compliment the lonely Brandon Wheat Kings, it does leave hockey fans wondering if the days of the small market WHL team is soon to be a relic of the past, like a worn-out pair of double-bladed bob skates.
Right or wrong, mistakes or missed opportunities, good hockey or bad hockey, champions or basement dwellers, move or stay—Cranbrook and area has been blessed with 20 incredible years of hockey—not to mention an annual infusion of some $5 million into the local economy. Those are the KOOTENAY Ice memories no one can abscond with – not even the grandiose business plans of Mr. Fettes to turn south Winnipeg into a burgeoning sports mecca.
Postscript: On Tuesday, January 29, 2019 the WHL and Ice ownership confirmed in a news conference that they were moving the franchise to Winnipeg.