Well-irrigated
Elkford's Mountain Meadows Golf Club has upgraded its irrigation system, and added a well for its own water supply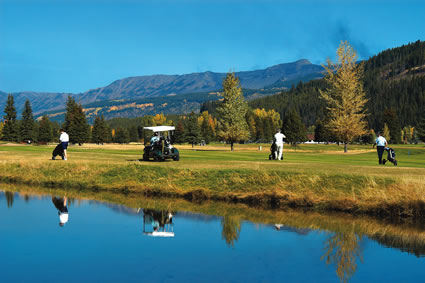 Community course Mountain Meadows Golf Club is a beloved tradition for residents of Elkford as well as visitors.
Known for offering the best-priced round of golf around, the course is welcoming and accessible—although not without its interesting challenges.
Hole 7 at Mountain Meadows is fun to play because a creek runs past the toe of the tee box and continues along the fairway.
From the tee box, the ball must pass through a tight window between mature evergreens. The 389-yard par four is the signature hole at the course.
Until recently, Mountain Meadows Golf Club got its water from the District of Elkford—water that is treated for drinking.
With support from the provincial government, the community golf club drilled a well and became self-sufficient. The provincial Towns of Tomorrow program funded 80 per cent of the project.
In addition, the club upgraded their 30-year-old irrigation system that had various failures throughout the course.
Tyler Whitfield, course superintendent at Mountain Meadows Golf Club, is impressed by the results.
"It is the Toro Site Pro 2000," said Whitfield. "It's a fully-automated system that can be controlled by the central computer system or by a hand-held (device)."
The previous irrigation system ran strictly by water pressure, and didn't allow for precision control of water use, Whitfield said. The new system is more specific.
The club installed new sprinkler heads with wires that run from the sprinkler to the satellite boxes that control each station of one or two sprinklers.
"This allows us to dial down or up at each station, where it could be too wet or dry, allowing us to use water more efficiently," said Whitfield. "With the new upgraded system, we have been able to give better playing conditions for golfers, cut down on the wasted water that we had with the old system and control the water we use."
Rhonda McDonald, who does communications and marketing for the District of Elkford, said the district is in full support of this improvement.
"It makes more sense," she said. "We are a small municipality, and using treated water to irrigate a golf course wasn't the best use for that water. We are excited that the new well will be in use beginning in August."