Timber framing rises to a higher level
In a B.C. village, creative minds design and build gorgeous timber structures that are springing up all over North America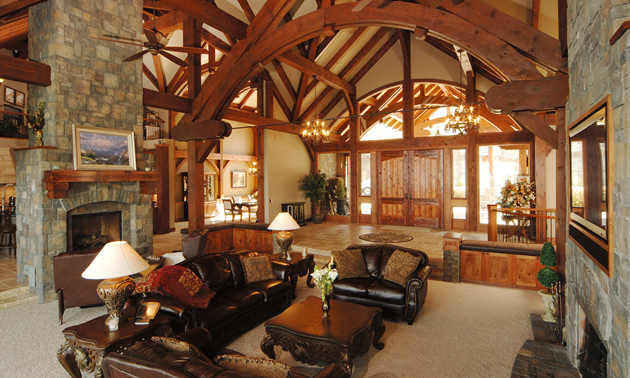 Hamill Creek Timber Homes is a timber-frame manufacturer occupying 20,000 square feet of commercial space in Meadow Creek, B.C. The company uses state-of-the-art robotics and CNC equipment in its manufacturing, and is well known in architectural circles far from its remote location.
"My wife, Debbie, is my partner in the business," said Dwight Smith, founder and company president. "She and I live here full time and we raised our daughter here. Our location at the north end of Kootenay Lake gives us access to some of the best timber in the world. Our in-house designers do lots of residential homes, but we also do commercial projects including restaurants, resorts and ski lodges. We prefabricate our structures here and ship them all over Canada, the U.S., the Virgin Islands and the Bahamas. We send building supervisors and sometimes full crews to assemble and install the buildings. It's all marked and labelled, and goes together kind of like a giant Lego set."
Hamill Creek Timber Homes has been featured in magazines including Architectural Digest and HiLuxury, and has won international design awards as well as the Canadian Home Builders' Association's Tommie awards for the best designed and built homes in British Columbia.
Why timber frame?
As a journeyman carpenter-builder, Smith gravitated toward timber-frame construction because, he said, "It's a more traditional way of building homes, and it was an opportunity to be involved with the revival of a craft that's been around for thousands of years."
Architects and clients choose Hamill Creek for its craftsmanship and high building standards.
"People embrace the craftsmanship they see in timber-frame buildings," Smith said. "Timber framing is a beautiful form of construction—you see all of the craftsmanship exposed on the inside of your house—and we also wrap the structure in the most energy-efficient envelope system you can get, with super-insulated walls and roof, so they are beautiful and energy efficient. We've taken timber framing to another level."