New furniture distribution centre
The Bedroom Furniture Galleries and Ashley Furniture Homestore now have a single warehouse that can better serve customers
Anyone who has shopped at Bedroom Furniture Galleries or Ashley Furniture Homestore in Cranbrook, B.C., knows these are attractive stores with excellent service. What they wouldn't have known, however, is that behind the scenes the two businesses shared a total of five different warehouses. Although staff had learned to accommodate the inconveniences of the haphazard system, owner Joey Hoechsmann had always found it took extra energy. Organization issues, product damage and time requirements were all complications of the number of warehouses.
When Liquidation World closed its Canadian stores, a large space opened up on King Street in Cranbrook. Hoechsmann recognized the opportunity and acquired the building, which is within walking distance of Bedroom Galleries. It has now been renovated and reopened as a distribution centre for the two stores. As a result, 4,000 square feet at the Ashley Homestore that were previously used as warehouse space have been opened up into a price-conscious showroom. The area will feature a great new selection of Ashley furniture, Frigidaire appliances and mattresses that are aggressively priced.
Set up for top-notch service
The distribution centre itself has been carefully designed to meet all the needs of the businesses and their customers. Hoechsmann visited warehouses around North America before deciding what to include for his own. He believes customers want to interact with a store on different levels—whether that be online, via social media or at a bricks and mortar storefront.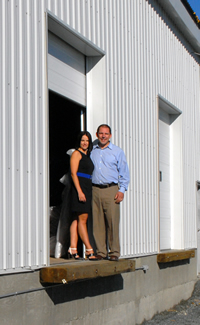 "We're always going to need our showrooms, but what's really going to set us apart is the ability to get the product to the customer in a timely fashion," said Hoechsmann. "There are some customers who may never want to set foot in our store. They'll be able to go online and they'll be able to take it right out of the distribution centre. Having a distribution centre sets us apart from other online presence because our distribution centre is right here in Cranbrook. For (local) residents, we're able to service them with deluxe delivery right into their home out of that distribution centre, however they want to buy."
The Bedroom Galleries and Ashley Furniture Homestore also deliver to surrounding areas such as Creston, Fernie, Invermere and Kimberley.
Advantages for customers
Hoechsmann is also looking forward to leveraging "container buys" through the new facility. He's now able to purchase large amounts of discounted product, and then the savings are passed on to customers. Together with the Ashley Homestore showroom expansion, the distribution centre can only mean good things for the area's furniture shoppers. With a continuing policy of "service, service, service," Hoechsmann is looking forward to taking the effort that was required to manage five warehouses and putting it into making the businesses the best possible.
"This whole process has been a dream for me," he said. "Customers come in and comment on the beautiful store and how they love the product—and that stuff is so important—but it's the back end that really fulfills their need. So if you don't have a strong logistic side in the back end of your business, you can fail. I've always felt that we had to put so much extra energy into the back end of our business to make us succeed that now applying that same amount of energy (to other aspects of the stores) will make us exceptional."