Modern ways to finish your home
Here are some of the latest and most popular exterior siding products that will add curb appeal and value to your home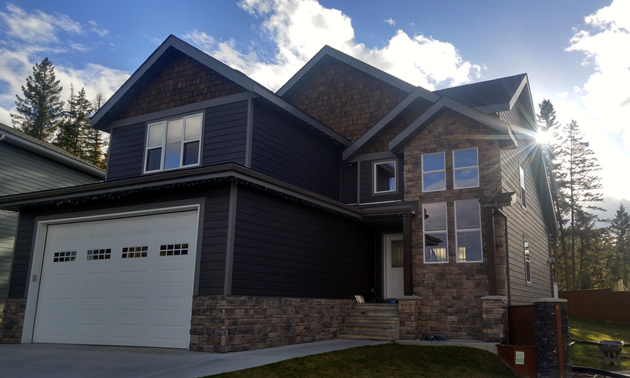 A lot has changed in the building and construction industry over the years. When it comes to exterior siding options, new technology, fuelled by market trends, has created products that are esthetically pleasing as well as durable and long-lasting. With that in mind, here is a guide to some products that will give your home (or business) a modern look, as well as the protection it needs to stand up to the elements.
Fibre cement
Fibre cement is a composite material that came onto the building scene in the mid-1980s when it was invented by James Hardie. Although there are now a few different manufacturers of fibre cement siding, it is most commonly referred to as Hardie board. Fibre cement is made from a mix of cement, sand, cellulose fibre and water. It is fire resistant, robust and designed to last the lifetime of your home. Fibre cement siding also comes in a wide variety of colours and patterns.
According to Monte Smith, owner and operator of Brown Dog Contracting Ltd. in Cranbrook, B.C., fibre cement is becoming the most popular siding option for new homes, as well as renovations.
"Fibre cement is being used across the board now, from modular and prefab homes to commercial buildings," said Smith. "You get a durable, maintenance-free finish for a reasonable price, so the value is there."
Engineered wood
The authentic look and feel of wood siding is appealing, but many homeowners are discouraged by the maintenance that comes with it. There is an alternative, and it's called engineered wood. This product is made from wood strands that are coated with a resin binder and compressed into boards, which are then stamped with a wood grain finish. Engineered wood is also designed to resist deterioration and insect infestation. There are a vast choice of colours and because it is available in full 16-foot lengths, engineered wood can also be installed with fewer seams.
Acrylic stucco
Stucco is one of the oldest and, according to Smith, best exterior building envelopes.
"People are trying to build more efficient homes that are airtight and stucco is the best for that," he said. "It seals the home right up. As far as durability, stucco is superior. It's tough, weather resistant and it's as good or better than fibre cement board for fire resistance."
Traditional stucco is made from a mix of cement, sand, lime and water. It is applied in three stages with the final coat being finished to a variety of textures or designs. Within the last decade or so, acrylic stucco finishes have become popular for home and business. Part of the appeal is colour. Unlike traditional stucco, which tends to look best in light to medium colours, acrylic stucco offers a rich, dark finish in any colour you want.
"As far as esthetics are concerned, acrylic stucco is, in my opinion, the nicest looking finish," said Smith.
Stone veneer
Manufactured stone is a highly versatile product that can be used to accent and add character to any home or business. It can also be used to cover fireplaces and interior walls. A wide variety of colours and styles are available, from tightly woven ledgestone to rustic river rock. Manufactured stone is almost indistinguishable from the real thing; however, according to Smith, there are some homeowners who are opting for natural stone veneers.
"We're in the process right now of installing a natural stone product that was quarried in the Kettle Valley," said Smith. "It's more time consuming to install but because it's real rock, it has deeper colours."
Siding is one of the first things family, friends or, if you're looking to sell, prospective buyers will see when they approach your home. It is wise, then, to look at your options and consider the right type of material as well as the colour scheme and how it will complement you and your neighbourhood.