Keeping it fresh at Fernie Brewing Company
With a new brew house, Fernie Brewing Company is building a facility that can keep up with demand for its tasty products
In the 11 years since it first opened from the owners' barn, Fernie Brewing Company (FBC) brews have become a signature part of Kootenay mountain life. Still a family-owned business, it moved into its current facility in 2007 and now distributes throughout British Columbia and Alberta and into Manitoba. Abi Moore, marketing manager with FBC, believes that staying dynamic and creating unique products have helped the company with its sustained growth.
"Craft beer is definitely a great trend," said Moore. "It's doing really well and people love it, but there are a lot of us out there. You've got to be willing to make changes and not get stagnant. Whether it be with our products or our packaging, I think we've got to stay on top of it and look to what we can change to keep things fresh."
This year has brought plenty of positive changes to FBC. The company has recently expanded its building with an increase in storage space and a new brew house. This came close on the heels of a revamped tasting room, which has an increased bar with better seating. Visitors can try a sample paddle, and proceeds are donated to a local charity.
Moore said the expansion will help FBC keep up with demand while looking at reaching into new distribution territory. The storage area was built seperately on-site before being attached to the main building. It will help with better efficiency and will mean more space for packaged product. And it will be needed space—the improved brew house will allow for about a four time increase in brewing capacity.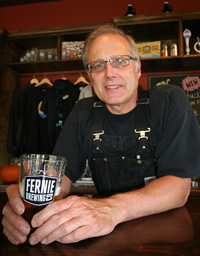 "The new brew house is outstanding, and I think it's much easier to use," said Moore. "It's fantastic. Beer is going to be improved, probably by taste but also by standardizing—every batch will taste the same. It's all electronic and the brews are programmed into the brew house, so it's a very slick operation."
FBC has used local companies for the construction, and brewing continued throughout the building process. Several of the company's weekly tours were cancelled, but otherwise production continued as usual.
This year has also seen the introduction of redesigned labels for FBC's products. Wanting to rebrand after three years with its former labels, B.C.'s most easterly brewery needed an updated design that would complement its mountain town brand.
"With craft beer you're kind of battling for shelf space, and you've got to be very eye catching," said Moore. "I think the colour blocking really stands out with the delicate illustration, and we've had a lot of positive feedback so far."
With its carefully tweaked award-winning recipes, seasonal releases and local flavour—beers include What the Huck (a huckleberry wheat ale) and Sap Sucker Maple Porter—Fernie Brewing has worked hard to ensure that it keeps on top of every aspect of the craft beer industry. Its expansions and updates are only part of a strategy to ultimately complement the brews.