A big dam project
Idlewild Park in Cranbrook is undergoing a facelift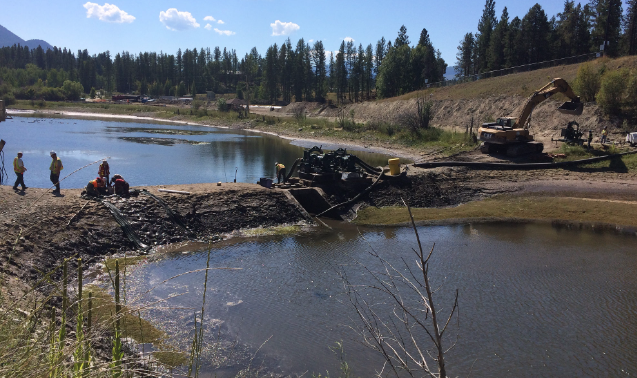 Idlewild Park in Cranbrook has served as a serene backdrop for residents for many years. The park provides opportunities to do things that Cranbrookians love most: fishing, tobogganing, biking, walking the dog, ziplining, playing hockey, watching wildlife like turtles and ducks or simply relaxing in a quiet, peaceful place. If you've been to Idlewild in 2016, you'll notice it's not as calm as it usually is—in fact, you'll likely see an excavator at the bottom of where the lake used to be. That's because the park is receiving a big-time upgrade.
The Overseer
MacKay Contracting is the general contractor in charge of overseeing and co-ordinating all construction activities, as well as the schedule and budget for the project. "The area will be improved with a new bypass intake structure, underground bypass pipeline and dam/spillway," said Rob MacKay, owner of MacKay Contracting. "Once the work is complete you can expect to see a cleaner, deeper pond and rejuvenated park area."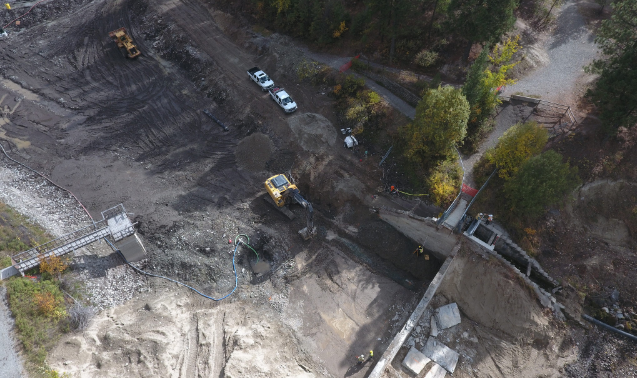 Safety
One of the main reasons for undertaking such a project at Idlewild Park was improving the safety of the previous dam. "The issues with the old dam caused a lot of concern and uncertainty, which put the park at risk," said Mike Matejka, project manager with the City of Cranbrook. Aside from having to worry about Idlewild's dam failing, Matejka said, "The biggest difference will be the massive size of the concrete spillway. From a civil engineering standpoint it is quite an impressive structure."
Micro machines
Big projects often begin in small spaces. How do we know if these mountainous constructions will function the way they should? The short answer—by making a model. It turns out those model airplanes we made as kids were practical after all. Austin Engineering specializes in structural and hydrotechnical engineering services which came in handy to get a realistic look at Idlewild's new spillway. You just might need to squint your eyes or move in for a closer look.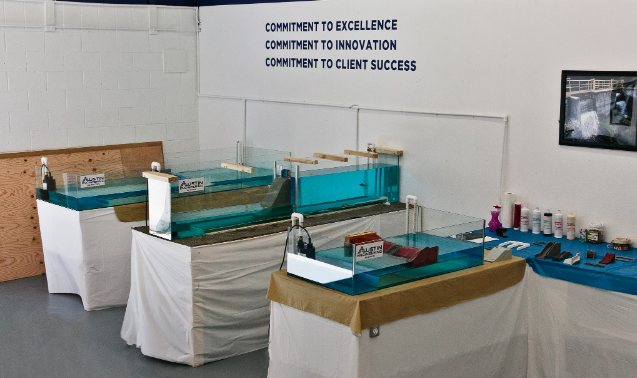 "This project showed the benefits of Austin Engineering's innovative 3-D printed designs," said Mary Austin, director of business development at Austin Engineering. "By using 3-D printed models and providing options, the City of Cranbrook reduced concrete costs compared to the traditional spillway design methods which present only one option."
The old adage of seeing is believing came into play as well. "Presenting a 3-D printed model of the dam during the regulatory approval review enabled all stakeholders to gain full project understanding and facilitated the process," Austin said. "Environmental considerations, such as fish ladders, were studied early on in the design process and modelled with the spillway design to ensure that the fish species present would be attracted to the fish ladder and able to climb it."
Following through since day 1
A project with this many layers takes a long time to come to fruition. Urban Systems' Anthony Comazzetto has been working with the City of Cranbrook to upgrade Idlewild since 2013. As project manager, Comazzetto is responsible for the planning, design and construction related to the dam upgrading and park improvements. "We began working on this project by completing the Inundation Study in 2013 for the City as part of the Dam Safety Review," he said. "Since then we have provided assistance with preparing the background material for the grant application that was ultimately successful in getting the project to move forward." When it's all said and done, Comazzetto will have invested four years into Idlewild. "The reconstruction of the dam and reservoir improvements will be completed in early 2017," he said.
Special features
Idlewild's dam wasn't the only thing that was outdated and in need of upgrading. "Many of the existing amenities in the park are at the end of their lifespan," said Comazzetto. "These important facilities including the fishing piers, washrooms, fitness circuit, park furnishings, playground and others will be renewed in the coming years. In addition, a suite of picnic pavilions and family-oriented activities like bocce and horseshoes will support group events of many sizes."
Life is good—and about to get better
New Dawn Developments contributed to Idlewild's new dam by supplying and installing the formwork, rebar, concrete, steel, gates and bridge. New Dawn's president Chad Jensen takes pride in this particular project. "I remember going to Idlewild as a child and now take my kids there," he said. "When looking at economic development, Idlewild will be another asset to help attract new industry, businesses and residents to our area. We live in one of the nicest places in the world and the improvements to Idlewild will make it even better."