When it comes to wheat
Using heirloom varieties of wheat to their full potential offers a quality and taste advantage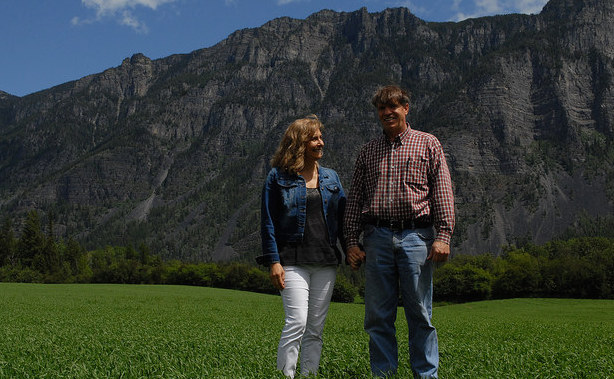 In 2008 Ben and Claudia Herrera moved to British Columbia's Creston Valley. Shortly after settling into their new home they started a journey to grow organic heirloom grains. The road would lead them to owning and operating Treasure Life Flour Mills.
"When we came to the valley our farm was growing hay, but we really wanted to get involved with food," said Claudia. "We wanted to grow high-quality food, good-quality food."
After considering several options, Ben and Claudia settled on experimenting with wheat. They decided to make sure they were only growing pure heirloom varieties. However, finding and propagating their wheat strains turned out to be particularly challenging. The couple bought out the University of Edmonton's heirloom seed bank and continued their treasure hunt, searching for seeds that fit their high standards. At times they would start with 25 kernels, which they would carefully propagate until they had a more sizable sample. It was a passion for their crop and a dedication to their dream that kept them moving forward. Today they have over 200 varieties in their collection and grow about 23 that are well suited to the region.
For the love of wheat
Many modern consumers only know wheat as the flour that they buy at the grocery store. However, Ben and Claudia point out that there are a variety of wheats that are meant to serve different purposes. Using heirloom varieties to their full potential offers a quality and taste advantage, they believe. Ben compared wheats to apples. Most of us know that we choose a different variety of apple if we're baking a pie than if we're eating the apple raw. And we can appreciate the differences between a Granny Smith and a Gala.
"You have hard wheats and you have soft wheats," said Ben. "You have durums. Wheats vary in nine different shades of colour from almost black to a white wheat. There is both spring and fall seeded. There are many different varieties for many different purposes."
To market, to market
Ben and Claudia are both very hands on as the farmers, millers and marketers of their own products. Ben does the majority of the field work before the grains are brought in to be cleaned, milled, mixed and packaged. Treasure Life Flour Mills now sells a variety of specific flours in addition to bran, hot cereal, pancake mix and flakes. They will soon be introducing a pasta flour as well.
The combination of doing their own marketing and packaging has treated the couple to a particularly steep learning curve. While they only brought the finished product to market in June of 2015, Treasure Life Flour Mills products can now be found in most Kootenay communities. Ben and Claudia particularly enjoy selling their own items at local farmers markets. They have used the opportunity to learn from consumers. They also find it fulfilling to see the positive response they receive from their customers.
Really good grains
While the couple didn't start Treasure Life Flour Mills to address any particular dietary needs, they have heard dozens of success stories from individuals who struggle with conventionally grown grains. They also feel that their heirloom wheats offer an advantage when it comes to flavour. All their products are whole grain—even their pastry flour—but they feel that creating a delicious and usable product is a part of offering a quality food item.
"We couldn't find a pancake mix that was multigrain or whole grain and that was yummy in the supermarkets," said Claudia. "It was always grainy or dry. You want to eat healthy, but at the same time you want it to be yummy. So we started experimenting with our own grains."
While Treasure Life Flour Mills offers wheat products directly to customers, Ben and Claudia have been especially pleased to have value-added producers come on board with using their organic wheats. There are a number of Kootenay bakers who have started using the company's flours. The Creston Valley Bakery has been dedicated to developing delicious goodies from Treasure Life Flour Mills. There is also a high-end bakery in Vancouver that is using Treasure Life flour, and Kootenay Country Craft Distillery also uses its grains.
It has been quite a process, but Ben and Claudia couldn't be happier to be bringing the best possible wheats to their customers. They look forward to continuing to offer this local flavour to everyone who is ready to give organic heirloom wheat a try.