Helping people in the Creston Valley stay healthy and happy at home
Heather Cain has recently moved to Creston to manage the new Pharmasave Home Healthcare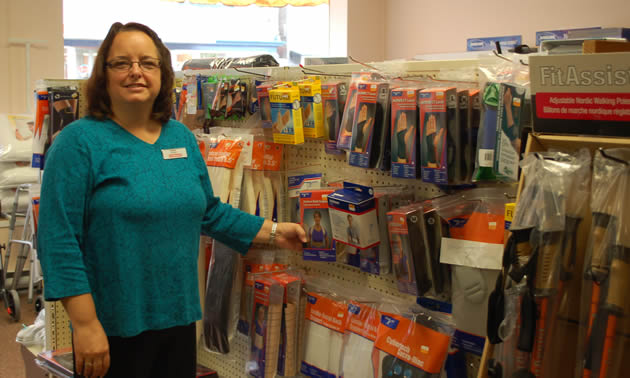 Pharmasave in Creston is branching out to assist locals with supplies that contribute to wellbeing. The owners, Jody McBlain and Mike Ramaradhya, have recently purchased Kootenay Medical Supplies. Being renamed Pharmasave Home Healthcare, this main street business will grow to meet the needs of the community while continuing to offer quality service to clients.
Heather Cain is more than pleased to be stepping into management at the store. Originally from Lethbridge, she jumped at the opportunity to move to the valley and utilize her experience in medical services. She's already gathered 17 years working in different aspects of home healthcare retail.
Coming from a management position in a larger centre to one in the small town of Creston has required some adjustment.
"I come from a very busy environment, so I'm excited to be in a smaller location," said Cain. "I want to be able to get to know the people personally. I want to grow with the clientele and their needs."
Cain is quick to point out that the pace of a city store also has its advantages. However, she has a lot of family in the Creston Valley and said that finding an opportunity that has allowed her to move here with her husband has been a long-held dream. So far, she is enjoying the area.
"I'm just excited to be here," said Cain. "I love how people walk by and come in just to say hi. I love the mountains, the trees and the clouds."
The store's former owner, Lawrence Ward, will be staying on until August to help ensure that the management transition is carried out smoothly. Previous employee Diana Miller will also be staying on at the shop.
Challenges ahead
Training is an important part of the business. The store will soon be offering certified fitters. Cain has long kept up a steady learning curve so she can stay on top of current developments in home healthcare. She was previously a qualified mastectomy fitter, but said she hopes to update her skills before considering offering the service at the Creston store. Even after all her years of experience, she's keen to keep up to date in the industry.
"I need to grow in the repair department," said Cain. "I'm taking a two-day course in the beginning of August [to help me develop those skills]."
Clients can visit the store and employees can help them establish what their needs are. Often when an individual is looking for medical supplies, they are not necessarily familiar with the product.
Building a rapport with vendors is also an important part of managing a medical supply outlet. New products often become available and Cain is aware that everyone benefits as she stays on top of these options. She looks forward to being able to offer current and top-notch service to her clients.
Most product can be ordered and be available at the store within two days. Cain stresses the importance of being able to source any item that could become necessary. The needs of the community are clearly extremely important, and Cain will do what she can to help ensure that they're met.
There are a wide range of other services covered at Pharmasave Home Healthcare. They offer home rehab equipment, orthotics, incontinence supplies, bath equipment and daily living aids. The staff is able to go to a client's home to do measurements. Rentals are offered, which can be very helpful for customers who only need a product for a short term. Also, free delivery and pick-up is always available.
Additionally, the business is currently working towards having a phone number available for emergencies. Cain is hoping to be able to slowly grow and evolve the product base as she learns about the community.
"Every town, no matter where you are, sells a bit differently," said Cain.
It's a matter of learning how to best serve the market where you're at. Cain is certainly ready to take on the challenge of a smaller store and area. She's working on learning people's names and helping them find the best options for their needs.
"I've enjoyed making a difference in people's lives," said Cain. "A lot of times people think they have to be sick to come in, but there are a lot of daily living things we offer to help make life easier as well."