Same four walls, totally redesigned space
There are many significant enhancements taking place at the Creston & District Community Complex's arena.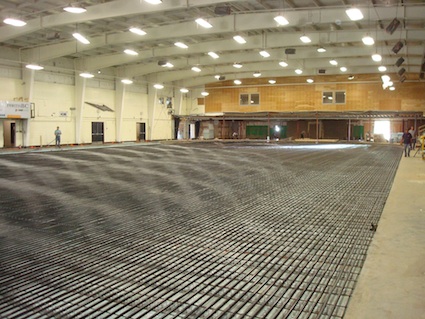 Originally constructed in 1971, the Creston & District Community Complex (CDCC)'s arena has served the area residents well, but was due for improvements. The arena had previously received a new roof when the CDCC's pool was built, and further enhancements to the arena infrastructure commenced at the end of the 2010/2011 ice season, at the end of March 2011.
There were several primary targets of the arena enhancement project.
"The arena floor was the key thing, because the old one had reached the end of its life," said Neil Ostafichuk, the recreation supervisor at the CDCC. "Second was the upgraded washrooms and arena lobby that serves the public—there's a concession that's been moved to better serve the whole building rather than just the arena."
The arena will also be getting a wheelchair seating area within the bleachers, a new multipurpose room that will be available for rental and updates to the washrooms and first aid room. A wall separating spectators in the lobby from the arena glass will prevent onlookers from being startled when the puck hits the glass during hockey games.
As well, energy efficiency will be significantly improved, reducing costs to the facility. It is expected that the project will be finished by September of 2011.
"There's been awesome co-operation on site with trades, and the project is remaining largely local in terms of trades and contractors working, which is terrific," said Randy Fediuk, the manager of recreation at the CDCC.