Pealow's loves Creston
Brian Pealow and his wife define "community" more broadly now than they did when they first moved to Creston in 2017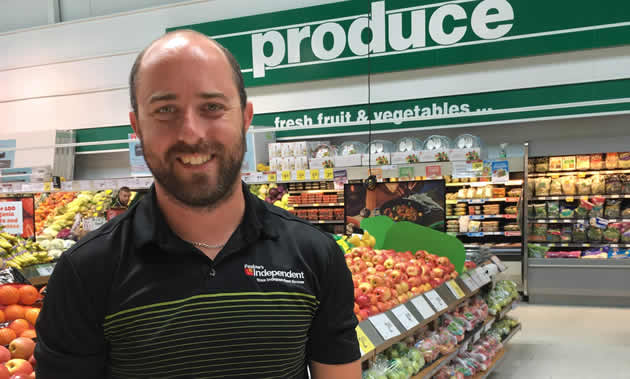 Brian Pealow's first job, at the age of 16, was at an IGA store in small-town Ontario where he corralled shopping carts and bagged groceries. Over the next few years, even when he was at university studying business, he found opportunities to work in various departments in various grocery stores, absorbing knowledge of the industry.
Pealow considered a career in accounting, but the sociable environment of the grocery store held more appeal. He earned his honours degree in business administration and then, he said, "I went full steam into getting my own franchise. That involved moving and promotions and a lot of work."
After managing the Arbutus City Market on the edge of Vancouver's Kitsilano neighbourhood for three years, Pealow and his wife, Julia, moved to Creston in October 2017 and purchased the Extra Foods store, renaming it Pealow's Your Independent Grocer.
"My wife and I both wanted to find a small town in southern B.C.," Pealow said. "All the friends and family we talked to about Creston said it would be the perfect fit for our lifestyle. We love this community—the people here are just outstanding."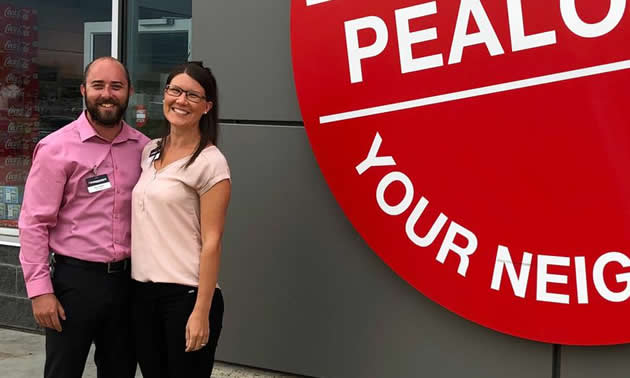 The job and the impact
Pealow said that he and Julia make a good team—her background in event planning and hotel management prepared her for the many moving parts of the grocery business. And they share a vision for the community that goes beyond their own business concerns.
"Selling tomatoes and cans of soup is okay," Pealow said, "but Julia and I are both in our early 30s, and if we had to just sell groceries for the next 30 years it could become mechanical. What makes it interesting and keeps us wanting to come back day after day is all the interaction we have and the impact we can have on others."
Pealow doesn't wait to be asked for help. He recently approached the Creston Valley Hospital to find out what piece of equipment they need most, and he has begun working to raise $42,000 for a fetal heart monitor.
"We want to know exactly what's needed," he said, "so that we can target our efforts. I don't want to replicate what someone else is doing."
As well as raising funds for medical equipment to serve the community, he responds to many requests for help for local groups. He also wants to support as many of the local producers as he can. In June, Pealow combined those goals, hosting a night market at the store.
"I asked the Creston Valley Farmers Market to bring in as many vendors as they could," he said. "We had food trucks, food vendors, metal art, jewelry—a little bit of everything—in our parking lot. We added donations from the vendors to our fetal heart monitor fund. We did another market on July 19 and we'll do it again on August 30.
"I want to raise the $42,000 as quickly as we can and then move on to the next piece of equipment that they need."
What the community wants
"Customers love the local products that we bring in," Pealow said, "and we love being able to support our local producers as much as we can. Our local food suppliers are licensed, incorporated and thoroughly inspected by the appropriate agencies. They're also insured.
"I'm always happy to help these producers to find their way through the process to get the licenses and certifications they need in order to become suppliers to the industry. The requests for gluten-free and organic products continue to increase, and there's a lot of pressure on the industry for more plant-based foods."
Why employer of the year?
Pealow's has a staff of 130 people with very little turnover. Pealow said that people do move on when life's path takes them away, but there are plenty of long-time employees, and the resumés keep pouring in. Based on nominations from the community, Pealow's was chosen by the Creston Valley Chamber of Commerce as Creston's 2019 Employer of the Year, and Pealow thinks he knows why.
"When we arrived here, the business needed some serious updating," he said. "We invested heavily in the store's infrastructure, including the refrigeration, because it was inconsistent.
"We immediately made some connections in the business community and with our colleagues in the store. It's been very easy for us to support this community because they're such good people. We define our community differently now than we did when we arrived—our community area has grown beyond Creston.
"I think people see the changes we've made and they know that we're the real deal. What we've done in town already is how we're going to continue."