Kemlee is celebrating expansion
The new 10,700-square-foot facility in Creston has a showroom, service area, extensive parts department and offices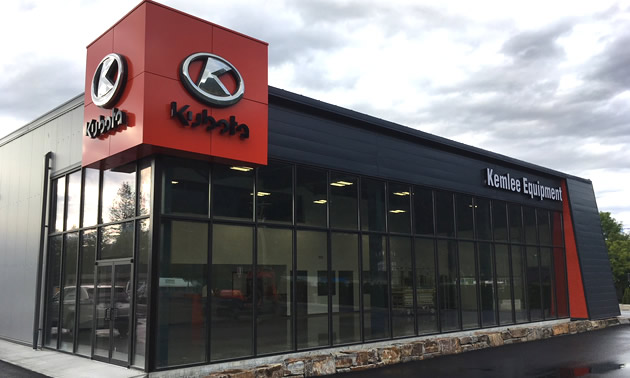 Construction on the new Kemlee Equipment Ltd. building on Highway 3 in Creston is complete, and business owner Darrell Kemle is looking forward to moving in. For 36 years, Kemlee Equipment has shared an address with the Kemle-owned Kokanee Ford dealership, and—with business being as good as it is—the two operations have outgrown the space. The new, 10,700-square-foot facility doubles the area available to them.
Kemlee Equipment is the Kootenay region's exclusive dealership for Kubota Canada Ltd., now selling 18- to 210-horsepower tractors, lawn and turf equipment, haying equipment, excavators, skid steer loaders, wheel loaders, utility vehicles and a full lineup of implements. Kemlee supplies reliable machinery for residential and municipal properties, the agriculture and construction industries, and anyone with a patch of earth to care for.
Kemle said that Kemlee Equipment desperately needed more space. "We've gone from selling 50 tractors a year in 2014 to hitting the 140 mark in 2018. I'm looking forward to having way more room and getting settled into our new building and expanding the business some more."
Kemle, who is also the general manager of Kemlee Equipment, bought the new property in October 2017, broke ground in July 2018, and looks forward to throwing a grand opening celebration in late October 2019. Kubota Canada representatives will be on hand at the event along with the Kubota On Tour truck. Kemle said there will be lots of giveaways, special grand opening pricing and a customer appreciation wine and cheese party on the Friday night. Watch their website, www.kemlee.com, for details.
The new facility has a showroom, service area, parts department and offices, as well as a large, easy-to-navigate sales lot outside. In addition, a sheltered outdoor area provides protection from the weather for large pieces of equipment brought in for repair and for the service people working on them.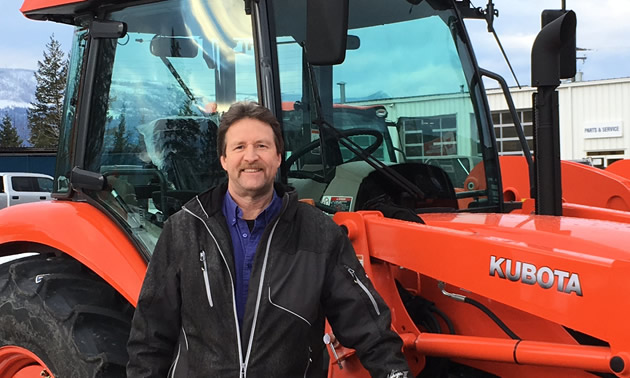 "With the new space," Kemle said, "we can hire a few more sales and service staff and we can stock more equipment to meet our customers' needs. Kubota just expanded into trailer sales in August, so we'll carry those as well—utility, closed-van, flat-decks, hydraulic-dump and cargo trailers. I should have the first of the trailers on the floor in mid-November, if things go as planned.
"This will give our existing customers a bigger range of products to choose from, and we hope to attract some new customers as well. There's already been some interest from our existing customers, so this will be a one-stop shop for them."
Kemlee has a satellite shop in Cranbrook, providing parts and service locally for the convenience of customers in that area. Parts not in stock in Cranbrook can be delivered from Kemlee in Creston the next day. The Cranbrook location offers sales, service and parts, including a mobile service that can go to your property if necessary.
"The bigger service jobs still have to come to Creston, because that's where we have the facility for large jobs," said Kemle.
For Kemle, hearing from happy customers never gets old.
"What's really satisfying is having people tell us that the piece of equipment they bought from us is working well, it's making their life easier and they're happy with it," he said. "Customer satisfaction gives me the most pleasure. We love hearing them say things like, 'Oh, this thing is awesome! I can't believe I lasted so long without it.' "
In speaking of the separation of Kemlee Equipment and Kokanee Ford, Kemle said, "Getting Kemlee Equipment into its own building will give Kokanee Ford a chance to stand on its own, too. This expansion will allow both sides of the business to grow, and I'm looking forward to seeing that happen."
KEY FACTS:
Kemlee Equipment Kubota dealership: serving its clients well
Founded in 1979 by Philip Kemle
Owned and operated by Darrell Kemle
Exclusive Kootenay region dealer for Kubota Canada
New, 10,700-square-foot facility
Sales and full-service repairs
Serves the agriculture and construction industries as well as commercial and residential properties
Satellite shop in Cranbrook with sales, service and mobile service