Kemlee Equipment and Kubota expands with new facility in Creston
Darrell Kemle is hiring locally while celebrating 40 years in business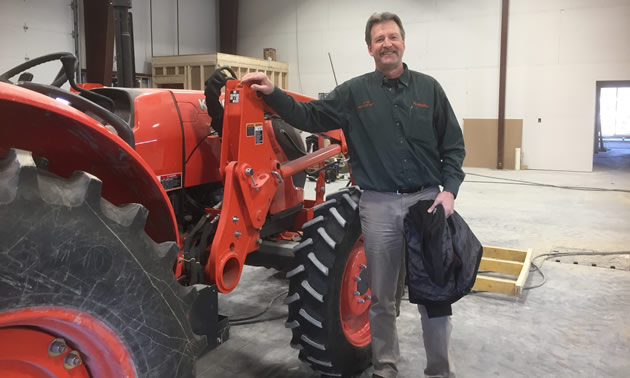 Building for the future is what Kemlee Equipment is doing with its investment in a new free-standing building for its Kubota dealership. The Creston-based dealership is owned and operated by businessman Darrell Kemle, and the company is celebrating 40 years in business in 2019.
The new 10,700-square-foot building will feature a spacious showroom, functional sales and administration offices, and a full-service shop, parts and accessories facility. With a high-visibility Highway 3 access, the new dealership will have an easy-to-manoeuvre outdoor sales lot with generous display room and lots of assembly and storage room at the back of the property.
"Right from my initial thumbnail sketch to the finished architectural drawing, I wanted to design a very customer-friendly dealership," said Kemle, owner of Kemlee Equipment. "We worked closely with Kubota for their input and with our architect designer and engineers so that we ended up with a building that not only has great street appeal but is very functional as well."
For example, any one of Kemlee's three dedicated tractor technicians can easily roll their tool boxes outside on a smooth concrete floor positioned under a covered area, so they can work on a tractor or another piece of big equipment without having to bring the unit into the shop.
Kemlee Equipment is the exclusive Kubota dealer for the East and West Kootenay. The company sells, services and supports Kubota equipment throughout the region. They work with everyone from hobby farmers to full-scale ranching and agricultural operations as well as municipalities, golf courses and owners of small acreages.
The original Kemlee Equipment was started back in 1979 by Darrell's father, Philip, and moved to its current location in 1983 on Northwest Boulevard. The Kubota dealership shared the space with the Kemle's other business, Kokanee Ford.
With recent rapid expansion, the Kubota part of the business clearly needed its own home and thus the construction of the new facility. Kemle saw the opportunity to make his vision a reality when Suncor put a nearby one-hectare (2.5-acre) piece of property up for sale a few years ago, and he quickly purchased the vacant lot. After approval from the Town of Creston in October 2017, Darrell and his team of local contractors got to work and broke ground on the new facility in October 2018.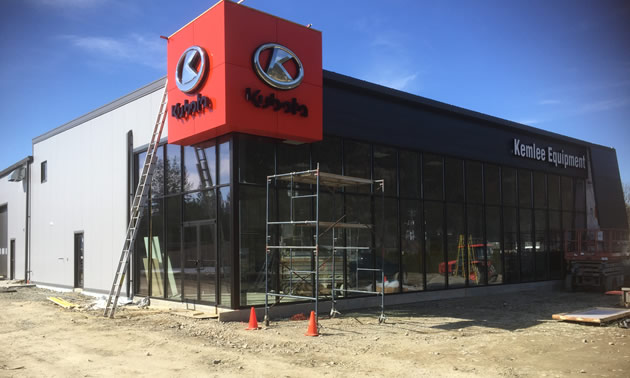 Being a local Creston business person, Kemle stressed his priority for using local trades and contractors, wherever possible. "I am operating as my own general contractor, so this lets me work directly with many of the local contractors in our area," he said. "I like that."
Some of the contractors have included: Arrow Mountain Earthworks, civil engineer Garry Jackman, Star-line Buildings, architect Christine Ross, Sullivan Stone, 3D Concrete, Z-KO Construction, Keirn Excavating, MW Millwork, Wynndel Electric, Tratech Mechanical, among others.
Kubota's bright orange lineup of equipment includes tractors, mowers, utility vehicles, mini excavators, skid steer loaders, compact track loaders, wheel loaders, tractor loader backhoes and track carriers.
The new Kemlee Equipment Kubota dealership is set to open in May or early June at 1309 Northwest Boulevard in Creston.