Fun and fermenting at Red Bird Winery in Creston
"The Kootenays are an awesome place to start a winery because people are excited about new things," said Shannon Cardinal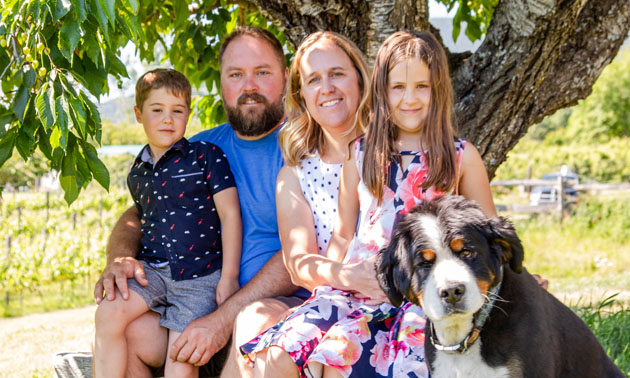 Maybe you think wine and the makers of it take themselves a little too seriously.
If that's the case, you might want to pay a visit to Red Bird Estate Winery in Creston, BC.
"We always want to keep ourselves small and always do some fun stuff," said Shannon Cardinal. She started and owns Red Bird Winery together with her husband, Rémi Cardinal.
And, yes. The name of the business is also a nod to their surname.
A life-changing dream
Shannon originally hails from Alberta, while Rémi comes from Quebec. It was while they were spending time in eastern Canada that they first realized they could take their love of wineries and build their own careers and lifestyles.
With this in mind, they spent time in France where they learned more about the industry and what it takes to make a great wine.
Once they returned to Canada the Cardinals set about finding a place to establish their own winery. They looked out east, and also considered the Okanagan. However, when they found the Creston Valley they knew they were in the right area, and had found everything they were hoping for.
"The Kootenays are an awesome place to start a winery because people are excited about new things," said Shannon. "The reception of locals has been super supportive."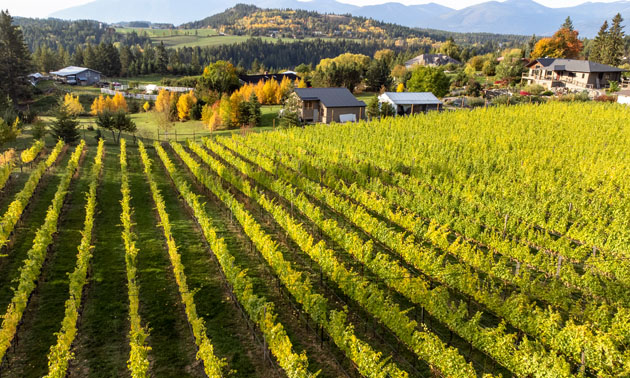 Moving and shaking
The Cardinals bought their property in 2014 and planted their vineyard the following year. They said it takes three years to bring a wine to market, which is when they started selling small batches at farmers markets and out of their garage.
For 2023, Red Bird Winery is getting an exciting addition in the form of a new building.
"What we're working with now is a 400-square-foot garage and a tasting room just out of our basement," said Shannon. "What we're moving into is a 2,500 square foot building. It's going to have all the wine production, storage and a new tasting room all in that building."
Finding a niche
The new building reflects a growing business that has settled into the blossoming Creston Valley industry of locally grown and crafted wines.
"We can only grow certain varieties in Creston just because the climate is really on the edge," said Shannon. "So we have like our core products—our pinot gris, rose, and we're moving into pinot noir now. We always try to do a fun side thing, and that's kind of like our play area."
Red Bird has also started to focus on growing their sparkling wines, which they ferment using traditional methods.
They also create unexpected products, such as piquette. This year they are making a cider from fruit in their neighbourhood. This winery is also the only one in BC which is producing gamaret. It's from a very niche variety of red grape that Rémi had shipped in from Quebec. You can read more about Red Bird's varieties on their wine selection web page.
"We'll always have our core wines, but we'll try and experiment with something new every year," said Shannon "If it really takes off we might evolve in different directions. Who knows?"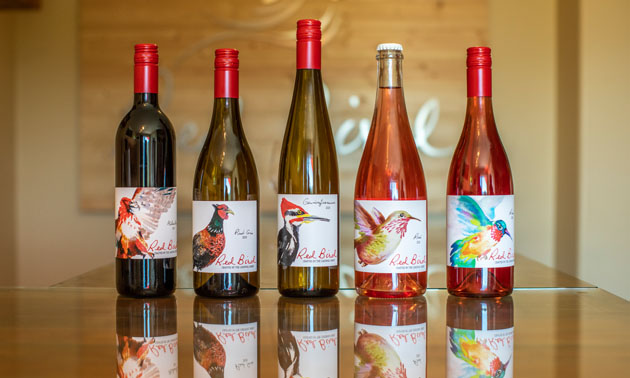 Unique and beneficial management
Another aspect that sets Red Bird apart from other wineries is their practice of integrated farm management.
The Cardinals keep a flock of chickens, which are allowed to roam. Also, on a larger scale, they work together with a local farmer to bring sheep into the vineyard early in the season. It's a unique management system, which they discovered on their travels to France.
"Instead of spraying Roundup, (the sheep) just eat the weeds that are in between the vines," said Shannon. "They'll also eat the leaf foliage right in the fruit zone, so we don't have to go through and pull the leaves off to expose that fruit to the sun. And then they fertilize too. So it's awesome . . . it's really worked out well."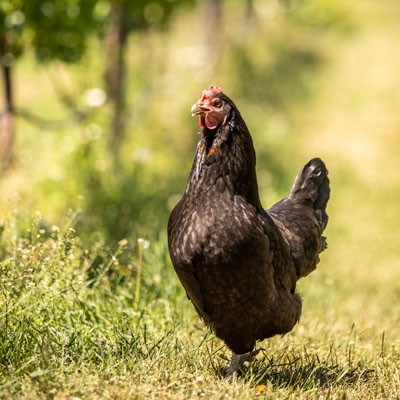 Truly Kootenay Wines
With backgrounds in sciences, trades and forestry, the Cardinals brought a lot of strength to the growing and making side of their winery. And, over the years, they have also begun to establish a strong market and brand for the product they create.
Today their sales are split between restaurants, retail and direct sales in the Kootenays. Their new tasting room is opening for the summer. Additionally, their wine club is a popular option for customers.
And while the Cardinal family has grown to love their home in the Kootenays, the area is happy to have another wonderful local winery.
"We only really distribute and work with clients in the Kootenays, so that allows us to really get to know some key people," said Shannon. "And we enjoy working with other producers like Jess (who provides her sheep for the integrated farm management), where we're kind of crossing over our disciplines and we can get to work together for an awesome product."