Chief and influencer
Jason Louie is dedicated to creating an independent business economy for the Lower Kootenay Band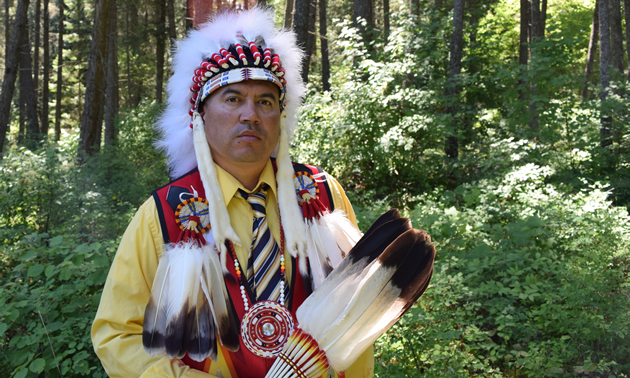 As full-time chief of Creston's Lower Kootenay Indian Band, Jason Louie is responsible for the band's governance in accordance with its vision for the future. Louie and his council set the direction, and the band's director of operations oversees the administrative staff of the finance department, social housing, public works and education.
"There's a whole structure in place," said Louie. "The director of operations oversees the work and delegates it to the directors of the departments. I'm involved with the financial aspects of our ventures—Ainsworth Hot Springs, our logging companies and our partnership with the St. Eugene Mission—but not the day-to-day operations. I don't micromanage."
Louie was born and raised in the Creston Valley, and he dealt with poverty and disadvantage in the early part of his life. At college he pursued a variety of career possibilities including long-term care, Aboriginal governance and management, and native adult education. After college he served for eight years in the Canadian army.
Defining his leadership
Before Louie's first term as chief began in January 2011, he served for several years as a council member. At that time the band had minimal interactions with the regional district and the Town of Creston, and as chief, Louie has taken a more engaged approach.
"We're always going to be neighbours," he said, "and I want to do our best to be good neighbours to the town and the various levels of government. We need to be role models and show the citizens of this valley that we're working together. I want to build bridges, not walls."
Louie makes a point of communicating and meeting with Creston mayor Ron Toyota and of jointly participating in community and cultural events. Those include Creston's Blossom Festival, the Santa Parade and, for example, a walk to raise awareness for PTSD. That said, Louie is deeply committed to having the First Nations recognized and respected as more than a cultural novelty to be put on display at special events.
"I absolutely love our beautiful culture," he said. "It's important, but it's only one aspect of who we are. We are also legitimate business owners and business people."
Calculating risks
The band's acquisition of Ainsworth Hot Springs in April 2015 was a giant step forward for the band in several ways. Referring to the band's historical occupation of the lands around Kootenay Lake, Louie likened it to a homecoming for his community. And as a business venture, it provides revenue for the community, continued employment for the staff who were employed at the time and job opportunities for qualified band members.
"We brought an Indigenous brand to the hot springs that's recognizable when you walk in," Louie said. "I don't think the fears that something bad might happen ever go away, but this is a part of the business world and you have to take calculated risks."
Remembering his roots
Louie never forgets his roots. "I grew up in poverty, with literally nothing," he said, "but at some point in my life I came to the realization that we deserve the best. I knew we could not continue to go the route that we were going, dependent on the government for operating our communities.
"First Nations people always worked for a living, and now we need to create an independent business economy and an independent future."