Casey's Community House brings the "wow" factor to Creston
The new open-concept restaurant will showcase the best of the Creston Valley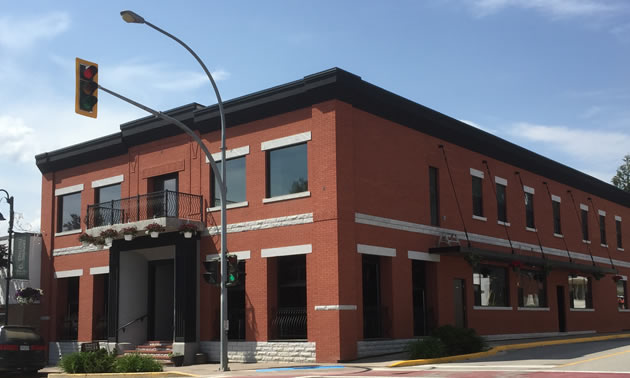 The "wow" factor is evident when you walk through the doors of Creston's new Casey's Community House. The new wine bar, taphouse and restaurant is located in the heart of downtown Creston and occupies a completely refurbished heritage building, which operated for decades as the Kootenay Hotel.
Co-owners and partners Ralph Casemore and Tanya Wall have spent the majority of their waking hours over the last three years on the $1.3-million renovation project. Both Casemore and Wall are lifelong Creston residents and have worked hard to transform the once vacant, almost derelict building into a source of Creston Valley pride.
"Our philosophy from the beginning has been to showcase all that the Creston Valley has to offer," said Wall, co-owner and operations manager. "From locally grown and produced products (19 local vendors and counting) to the talents of local contractors, it has been possible to transform the old building into a new dynamic, modern space."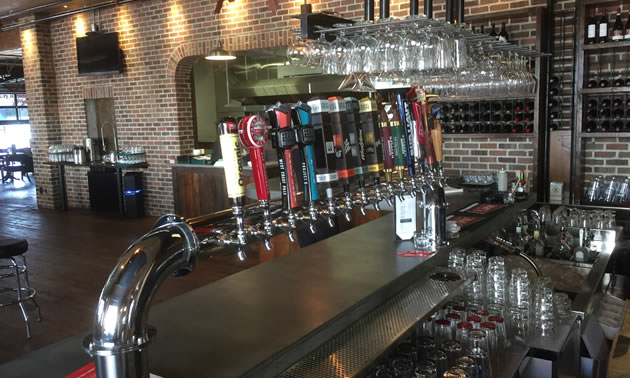 The name and the ambience
Why the name Casey's Community House? "Casey was my father's nickname, so we decided to recognize his legacy in the valley with the naming of our new establishment," Casemore said. "The original Kootenay Hotel, built in 1947, reaches back to my father's era. So we felt the name Casey's had a good community and family connection to it."
"Ralph and I have a passion for the hospitality business. We love great food, good wine and the friendly, social component of the business," said Wall. "I believe Casey's cool, bricky, open concept—coupled with a relaxed, comfortable heritage setting—makes our establishment a welcome addition to downtown Creston."
Casemore and Wall were inspired by a number of other dining and beverage establishments throughout the region, both in Sandpoint and Nelson, which incorporate great food and drink into a warm and inviting atmosphere. They actively consulted with a number of successful hospitality industry operators and tried to incorporate many of their suggestions into Casey's.
Casey's has a standing capacity of 200 people, with restaurant seating capacity at 150 people and the main floor at 5,500 square feet. With a soft opening in mid-May, Casey's is now fully operational and is open seven days a week: Monday to Thursday and Sunday from 11 a.m. to 11 p.m., and on Friday and Saturday from 11 a.m. to midnight.
"We were busy from the moment we opened," said Wall. "In the first 17 days, we have hosted a number of large events, one event for 45 people and another one for 165. It is very clear to us that Casey's is filling real need and demand in the Creston market."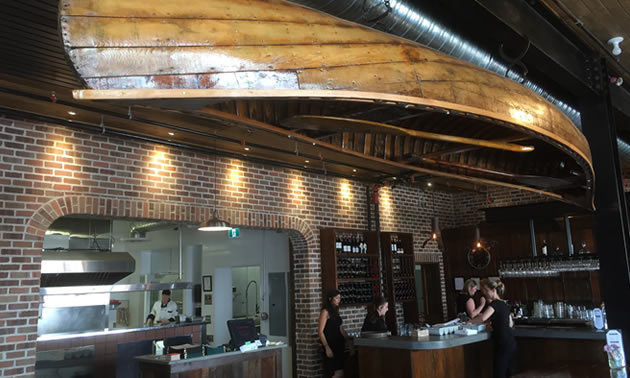 The bricks and the mortar
Being a bricklayer by trade, Casemore is especially proud of all the brickwork and the reclaimed products they were able to incorporate into the construction of Casey's. Old lumber from the roof was reclaimed for the stairs, bar and tables. The hotel's original safe is a centrepiece in the lounge, and refurbished kitchen and refrigeration equipment were installed. The original art-deco front entrance was carefully preserved and enhanced.
"We took everything right down to the basic foundation and floor joists," Casemore said. "Basically we gutted the entire building and put a new roof and trusses on last year. We also installed six interior overhead doors which roll open to bring the outside in on sunny days.
"Casey's employs a staff of 23 and we are pleased to support so many local vendors and suppliers in the Creston Valley," said Wall. "I worked at the Columbia Brewery for 18 years and I know the importance of managing people properly. Everything we do here is all about running efficiently and according to plan, yet at the same time providing excellent service and showing respect for our staff and customers."
Casey's interior design features an open kitchen and bar complete with a fantastic assortment of wines and brews. The open concept allows kitchen and bar staff to be engaged directly with the customers as their meals or drinks are being prepared. The open kitchen is state-of-the-art with generous refrigeration and cold storage space, a hot and cold prep line, two cold stations, several warming stations, an eight-top cooking stove and several modern deep fryers.
"Without the support from the community of Creston, all the local contractors and business people, Casey's Community House would have never been transformed into what it is today," said the owners. "We have to thank all the people, businesses and volunteers for what they have done to make our dream come true."
Casemore and Wall have plans to complete the second floor renovation later this year, adding several meeting rooms, a small conference/ballroom and an outdoor/rooftop barbecue patio.
So the next time you visit Creston, plan to arrive in time for lunch or dinner at Casey's Community House and chances are your first reaction will be "wow."