A future in her roots
Piccinin said she has forgotten what it feels like to be bored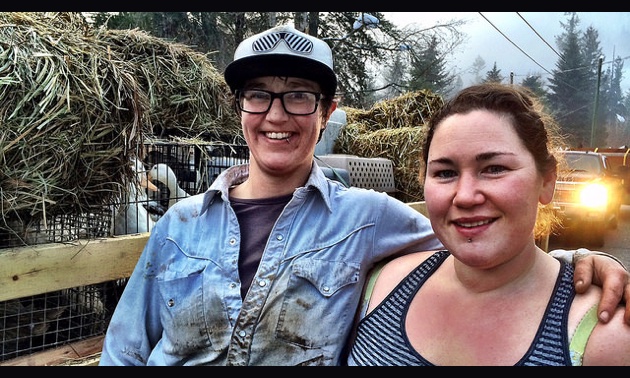 Farming and Jessica Piccinin are a match that was meant to be. Moreover, agriculture needs more young entrepreneurs like her with a passion for produce. For her part, Piccinin found that returning to the Creston Valley was the right move.
"I grew up here and then I was like, 'I'm out out of here.' I went and lived up north for a little bit and then I was like 'I better go home because I made a mistake,' " she said. "We live in such a beautiful place with so much potential and this is where I needed to be."
Piccinin was familiar with small-scale farming as her grandmother had owned a greenhouse and orchard in Erickson, a particularly agricultural area of the valley. She started Root and Vine Acres in 2008, shortly after returning. The start-up farm was located on leased land. ln 2015 Root and Vine Acres moved to four hectares that Piccinin was able to purchase—a notable accomplishment for any farmer.
Growing through the challenges
Piccinin originally did a program through Community Futures, a move that she said gave her the tools for success. While hard work, dedication and constant engagement are all attributes needed for farming, Piccinin found the financial side of running a business to be one of the biggest challenges and very overwhelming, especially given the seasonal nature of farming. But the young entrepreneur has mastered the financial aspect of her business, too, including having eight employees.
They raise pork, goat, sheep, eggs and plenty of produce. Piccinin also recently purchased Quack Me Up! Farm and Hatchery together with her business partner, Tammy Murphy. This new venture involved relocating hundreds of ducks from Winlaw. The business will continue to sell eggs and ducklings as well as move into producing duck meat. Piccinin sees the niche business as a valuable addition to the Kootenay agriculture community. Also, while pork and vegetables are the biggest products she grows, she is intentional about remaining diversified and responding to customers' wants.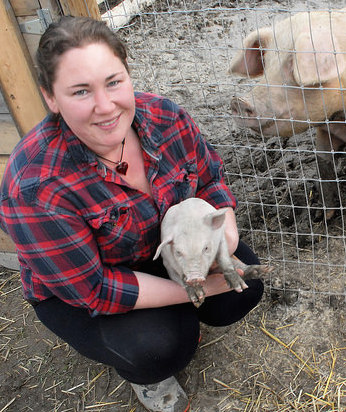 Diversity and the market
"We have no focus, besides just food," said Piccinin. "We need to do a little bit of everything to make it sometimes. Maybe we don't sell the goats or somebody gets sick, but we still have the pork. Maybe we lose all the greens because of flea beetles, but we still have this other thing. Being diverse—not having a specific focus—I think is the only way I can still keep going."
Over the past eight years, Piccinin has found that there is plenty of interest in whatever product she can bring to market. She participates in farmers markets from Nelson to Cranbrook where her consistent presence has helped to build up a customer base. Quack Me Up! Farm and Hatchery already has established sales in stores as far as Vancouver, which has opened more doors for Root and Vine Acres product.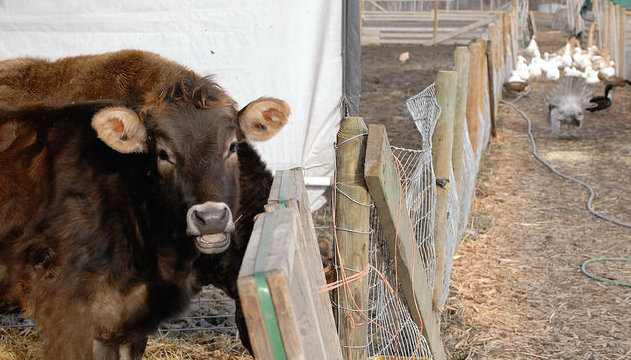 A fulfilling business
"I think there's so much room in the market for more local food," said Piccinin. "We go to Nelson because there's a need for it. They can't grow as well as we can here, and they're very local-food minded. They want to know their farmer. . . . Our global food security is so unstable and we have so much here, available to us, that people want it. People recognize that we have such value."
When you ask Piccinin if she has any regrets about leaving the oilfield the answer is an emphatic "no." Her life on the farm brings something new every day, fantastic food and an engaged community. She underlines the fact that she has forgotten what it's like to feel boredom—she always has a part of her business that is capturing her attention. Together with her supportive man, her family of employees and animals she truly cares about, Piccinin sees no end to her farming days.