Stepping up service
Medevac service in the East Kootenay region has been strengthened due to a new helicopter purchased by a Cranbrook-based company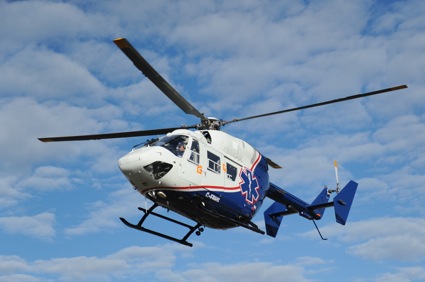 A new helicopter flying around the region's skies has the ability to respond to and offer treatment on site at medical emergencies.
Bighorn Helicopters Inc. has acquired a BK-117 Eurocopter—the same unit used by Alberta's Shock Trauma Air Rescue Society (STARS)—and is ready to service the community with emergency air transport.
Bighorn decided to purchase the helicopter after recognizing there was a need for such a transport service in the area. Cranbrook is right near the edge of the range that STARS will respond to, said Janice Wilson, co-owner of the company along with her husband, Clay. With demand increasing in Alberta for the services and capabilities of STARS, the couple felt the purchase of the BK-117 could fill any gaps.
"We see the changes that are happening in the industry as well as with the health-care system," said Wilson, "and indications are that the STARS program—which has been very supportive and has provided the patient transfer capacity in the community for quite a while—might be diminishing in the East Kootenay region."
Ready to go
The helicopter can be used in a variety of situations, ranging from emergency on-site care and transport to hospitals to preplanned patient transfer between health-care facilities.
The BK-117 can be in the air 10 minutes after an initial call. It is equipped with all the necessary medical gear and has the capacity to carry two patients and three medical attendants.
"The interior of the aircraft has oxygen, the appropriate medical lights and air-to-air communication," said Wilson. "The attendants or physician or flight nurse have the capability of communicating from the rear of the aircraft into the cockpit and directly with the pilots."
A medevac gets patients to hospital facilities in a quicker fashion than ground transport, and this can make all the difference in a medical emergency.
The BK-117 is a turbine twin-engine aircraft and is classified as a heavy-intermediate helicopter; it is capable of functioning in different capacities other than a medevac service. The aircraft can provide a smoother and more stable flight due to its twin engines and can be used in utility service, such as construction, as well as for passenger transport.
Bighorn has seven helicopters and is headquartered in Cranbrook, with satellite bases in Fernie, Blairmore, Kamloops and the Springbank Airport in Calgary.