Soulfood for community
Soulfood showcases local food and drink producers at a long table dinner on the patio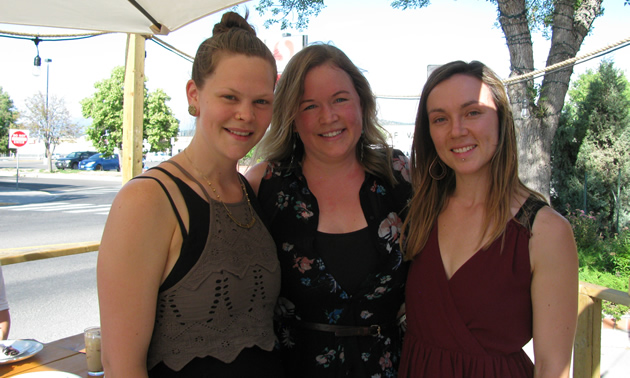 I'm so lucky. The latest perk of my job was an invitation to a special dinner hosted by Soulfood restaurant and cooked by Chef Ronny Belkin.
The event was dubbed a "long table dinner," and it was held on July 27 on Soulfood's pretty patio on Cranbrook's Baker Street. While the 18 guests were encouraged to enjoy the meal and promote the restaurant to their friends, the main purpose of the event was to introduce us to the local farmers who supply Soulfood with vegetables, berries, dairy products and meat, all of it raised following organic farming principles.
Before I tell you about the dinner in depth, let me digress into the shallows for a moment. As a senior citizen, I have a healthy appreciation for beauty wherever I find it. And those farmers and distillers—female and male alike—are lovely to behold. If that's what clean, conscious consumption does for a body, I'm all for it.
Vodka and coffee liqueur (yum) from Bohemian Spirits distillery in Kimberley, along with Soulfood-made root beer, went into the paralyzers that started our feast. Ingredients for the spirits are all locally sourced and, where possible, organic.
The five-course dinner, served family-style, delivered a cornucopia of visual appeal, flavours and textures.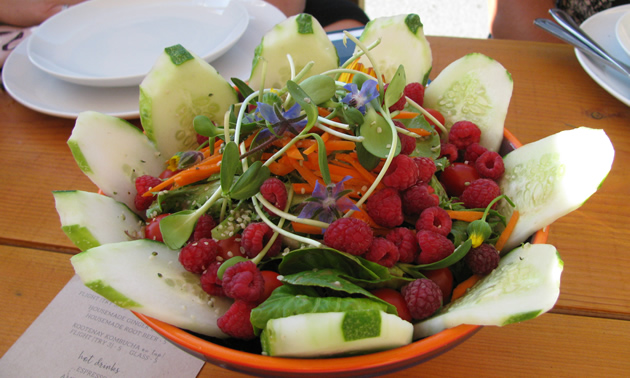 We began with a charcuterie board that included prepared meats from Cutter Ranch, cheese from Kootenay Meadows farm and house-made pickles and chutney.
Clear Sky Farm, Ideal Society and 3 Crows Farm provided luscious, just-picked berries and greens for an extravagant salad.
Ground bison from J2 Ranch and mushrooms from Kootenai Fungi were combined in an exquisitely tender house-made ravioli.
Roasted root veggies from Ideal Society, along with a robust and tender stuffed pork loin from Cutter Ranch, made up the main course. The stuffing of Saskatoon berries and walnuts might have been my favourite part of the dinner.
More fresh berries from Clear Sky Farm, along with free range organic egg whites, were used to make a beautiful dessert pavlova, topped with whipped cream from Kootenay Meadows.
Chef Ronny outdid himself in preparing this delectable, beautifully plated meal. His house-made root beer barbecue sauce, drizzled over the pork loin, is a masterpiece.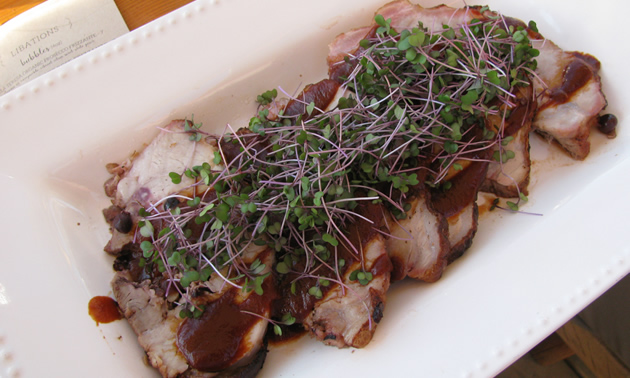 This unique event was the brainchild of the owners of Soulfood: Caitlin Berkhiem, Tamara Mercandelli and Christel Hagn. They love their suppliers, and this event was a generous way of drawing attention to them as valuable resources in the Kootenay region.
This was an evening of fabulous food and drink with congenial company in a lovely location, with eye candy for good measure. It's tough work (sigh), but I'm dedicated.