Service with a warm smile
For co-owner Dana Tippe, Medichair Kootenay/Boundary is all about building relationships and helping people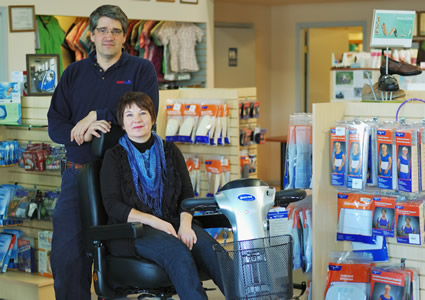 Dana Tippe and David Stokes, owners of Medichair Kootenay/Boundary, consider themselves lifers in the business—which is easy to believe. When we talked to Tippe, she repeatedly returned to her commitment in customer service and the joy she gets out of serving her clients. Medichair Kootenay/Boundary, which won platinum in the 2011 Best of Business Awards for Medical Equipment Supplies and Service, provides everything from slippers to home elevators—and always, optimal customer service. Medichair is involved in services such as home assessment and has seven vans out on the road delivering supplies. We had a chance to speak with Tippe about the business, things that she enjoys and what inspires her.
Number of years in business: We have been here now for just over four years.
Tell us about your community involvement. Community is something we believe in. I was born and raised in Cranbrook—have never left. We have sponsored sports teams in the area; for example, we have helped out with the dragon boat ladies. We also help out any of the service clubs with any type of fundraising that they do. We have a store in Castlegar, so we do this in that community as well.
What is your favourite downtime activity? Camping, outdoors (laughs). For both Dave and I, we love the Kootenays because of the outdoor activities. That's always our favourite—whenever we get the time, which isn't often.
Who has inspired you and why? David has inspired me because of his philosophy: the philosophy I have learned is to always pay special attention to your customers. If you treat your customers as a relationship, then everything will work out for your business.
What lessons have you learned along the way? I've definitely learned that owning a small business is a 24/7 job. I'm very fortunate in this way because I love people and I love to work, so it's all turned out very well.
Name one of your must-reads. I'm not a huge downtime reader, so what's something that I've read that has just been awesome? I really like to read Ken Blanchard, he has an awesome philosophy on managing. I also enjoy reading books by Eckhart Tolle—he wrote The Power of Now. I like his books because he just offers a real inspiration to keep you going.
What was your first job? When I was a kid? You mean my first experience with the working world? That would be the job I had when I was 14 1/2 for Candy Kitchen in the Cranbrook mall. It was great; I learned so much about customer service. That's when I realized how much I loved working with people.
What is your favourite part of your workday? Customers, definitely working with my customers. There is such a wide range of clients that I am able to work with. We have more repeat clients on the rehab part of our business, but I also have the retail part of the business. We also do a lot of walking around, helping people look for a wrist brace or a uniform—things like that. The best part is when somebody walks into the store and says "I had no idea you had all this over here!" It's great to work with clients from all walks of life.
What is your favourite Kootenay getaway? Our favourite would be the White River, just up behind Canal Flats. It's just such a wonderful place. I love where the White River and Kootenay River meet. We camp right there and you just look around and think, "Oh, Mother Nature is awesome." The Kootenays are truly incredible. Growing up in the region has helped me appreciate this.
To what do you attribute the longevity/success of your business? Do you know what? I think that the demographics would definitely be a big part of the longevity, so I think the longevity is going to be in our treatment of our customers—not just our customers, but I also think of employees and suppliers in the same way. As long as you are able to build those relationships, you'll have a great business.
What are you most proud of? I would have to say, going back to the last question, that for me it would be the relationships I have built with people. My employees are family. I also have customers that walk in just to say hi and ask how it's going. Yes, for me it would be all the relationships I've been able to build through the business.