John and Debbie Mandryk drew a crowd
The Mandryks spoke at the annual health and wellness expo in Cranbrook to offer health tips for people of all ages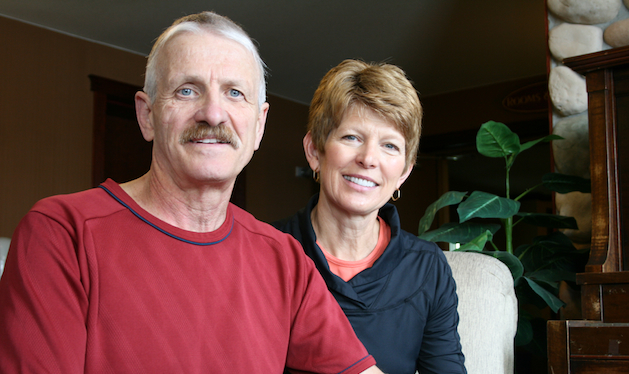 John and Debbie Mandryk were the keynote speakers at the 5th Annual Rocky Mountain Health and Wellness Expo in Cranbrook, and they did not disappoint.
The Mandryks were raised with competitive athletic backgrounds: Debbie was a figure skater and John played hockey, football, rugby and he rode bicycles frequently. As adults, the couple struggled to find a fitness routine that would suit their lifestyles, so they went back to school.
"We started doing it for personal reasons," said Debbie, "but the more we learned, the more we wanted to share with our friends, so we went and got the Canfit Pro certification."
As Canadian Fitness Professionals, the Mandryks learned how to teach specialized fitness programs for older adults, provide clients with modified exercises that cater to their medical needs, and utilize specialists in an attempt to meet individual goals.
"There isn't one perfect routine for everybody," said John. "The best exercise is the one that you do."
The Mandryks emphasize that staying active is critical for aging adults. Often they promote functional fitness—the idea that you can practice simple movements to stay in shape. They encourage people to do simple activities like sitting up from a chair and using your legs instead of your arms, picking up your grandchildren or using soup cans for weight training and picking up the groceries, instead of using a cart.
According to the Mandryks, doing a simple activity like practicing how to shoulder-check for driving can build up your co-ordination and your confidence.
It makes a difference for people turning 80 years old because they have to take the driving test.
The Mandryks met an incredible woman named Ruby at the expo. Ruby is 94 years old and she still washes her own windows, plays golf and walks two miles a day at the RecPlex.
"That's incredible," said Debbie. "Ruby said the RecPlex is perfect because there are no slippery surfaces, no dogs and they've got bathrooms at every corner, which I never really thought about, but it's true."
The Mandryks' goal is to minimize equipment by working from their homes, their clients' homes or by utilizing facilities within the city.
"We try to keep it as basic as possible," said John.
Side bar:
John is busy promoting the NorthStar Rails to Trails pathway between Cranbrook and Kimberley.
"The trail brought Kimberley and Cranbrook together," said John. "It's a major recreational feature of the area."
The trail provides locals witha way to stay active, and it provides locals with a place to walk or bicycle. The trail was commissioned last spring, but the annual opening event will take place this spring and the Mandryk's urge locals to use it.
For more information about Rails to Trails visit their website.