Happy hounds, happy owners
Stu and Sherin Laurie, the couple behind Pets Go Raw, emphasize that a good diet is important for your pet's health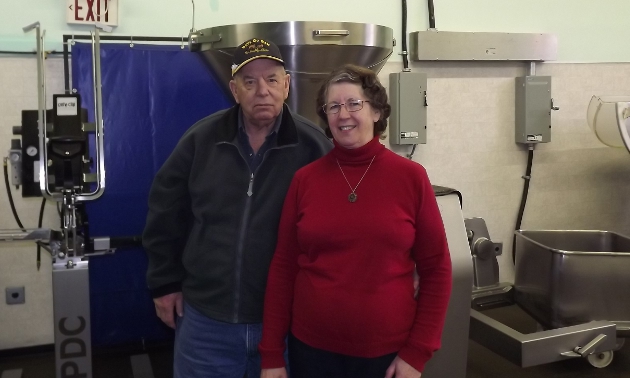 Stu and Sherin Laurie have turned a personal experience with their own dog into a successful, expanding business.
"Quite a few years ago, we sent one of our shiba inu dogs to a handler, and she put him on raw food," said Sherin. "When he came back, we found a huge difference in his coat and muscle tone."
Sherin said she and her husband, Stu—who are now the owners of Top Hand Supplies Ltd., the company that manufactures Pets Go Raw—switched their dog to a frozen, raw pet food, but when it didn't quite meet their expectations, they decided to make their own. They began experimenting in their home in Skookumchuck, B.C.
Taking the next step
The pet food they were producing quickly became popular with friends and acquaintances who had pets, so the couple decided to expand. They raised capital, leased half of a building in nearby Cranbrook—and, again, the business grew. They now own the building and have plans for further expansion in the future.
Sherin said as well as being sold in the local area, Pets Go Raw is carried in the Okanagan, on Vancouver Island, and in parts of Vancouver, Alberta and Saskatchewan. Plans to expand into northern British Columbia and Ontario are in the works.
The Lauries have experimented with the mechanics of producing their pet food, and they've graduated from hand grinding and stuffing the food into loaves to using state-of-the-art machinery that automatically produces the finished product—a high-quality food sausage with a good storage life.
What's good about it?
"The proteins in the food are (from) chicken, turkey, beef, bison, elk (and/or) salmon for dogs," said Sherin. "For cats, we do chicken, beef and salmon."
She said carrots, romaine lettuce, apples and pumpkin are added to the proteins, providing a broad spectrum of ingredients and nutrients.
"We have changed the recipe a few times over the years," said Sherin. "We have had this one for five or six years."
This food is healthier overall, said Sherin, because there are no preservatives, additives and fillers; this means there is a lot less chance of the animals getting allergies or chronic diseases.
"It helps with their coat, makes them feel good and calms them down because of less preservatives," said Sherin.
Happy experiences
She said that there are many success stories associated with dogs switching over to raw food.
"A springer spaniel who had lost all her coat and who had running sores everywhere switched to our food," said Sherin. "Within a month, her sores were disappearing and her coat came right back."
Maintaining a pet's health revolves around feeding and exercising the animal properly, said Sherin. Pets need to be trained at a young age and socialized with other animals and people. Puppy classes teach basics for both the owner and puppy.
"Any animal that you have keeps you mentally healthy," said Sherin. "It gets you out to exercise and in the fresh air, and you have someone that depends on you."
Sherin said that it doesn't matter what pets you have, a decent environment and taking the responsibility seriously is very important.