Discover your opportunities at this year's career fair
The College of the Rockies Career and Job Fair is set to be another successful event this March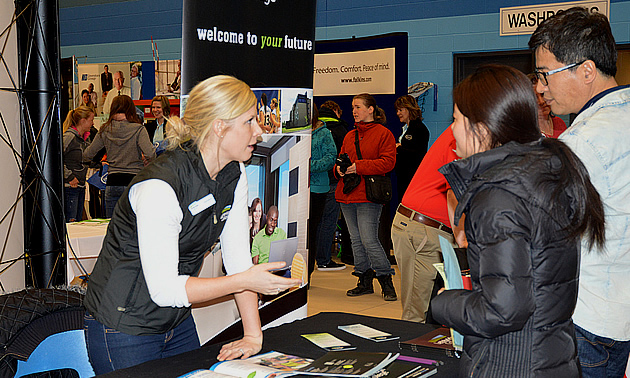 The ninth annual College of the Rockies Career and Job Fair is bound to be a busy place, with dozens of companies and associations along with hundreds of attendees.
Last year saw a particularly successful event, with an increase in attendees in 2014 over previous years. Kootenay Business looks forward to partnering with the College of the Rockies (COTR) to bring another year full of networking and opportunity.
"It's a tremendous partnership," said Murray Shellborn, one of the organizers of the career fair, "the fact that the chamber, COTR and Kootenay Business magazine can work together to put on this event, and have it grow every year. We're able to attract industry, employers and people from the community who are looking for work, and to have it bigger and better every year is a remarkable thing."
The 2015 event will, again, see a chamber lunch hosted on site at COTR starting at 11:45 a.m. before the career fair commences. This year, Kootenay Business publisher Keith Powell will be moderating a panel discussion titled "New Opportunites — New Vision." Participants will include Cranbrook mayor, Lee Pratt, Kimberley mayor Don McCormick, RDEK chairman Rob Gay and Cranbrook Chamber manager, David Hull.
This year's career and job fair will host over 30 representatives. Industries will include tourism, financial, mining and health care, as well as educational institutions that will provide information for students. High schools from the surrounding area often bring students to the event. The Summer Job Alley, featuring recruiters that are actively accepting resumés, is always popular.
"We've been hearing for years about how the students seem very engaged and how they enjoy meeting prospective employers at the event," said Shellborn.