Fulfilling dreams
Pat Pighin, owner of Pat Pighin's International Equestrian Centre, is a high-level coach who offers all types of riding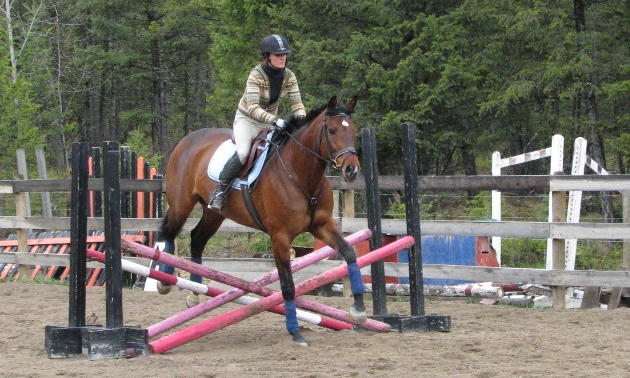 Flying over a jump on a beautiful horse is a dream of many—and the reality is that anybody can try it in the East Kootenay region of B.C.
Pat Pighin, owner and trainer at Pat Pighin's International Equestrian Centre, has been involved with horses for years, and she, perhaps more than anyone, knows that riding a horse is a dream come true for a lot of people.
Pighin said she originally lived in the Cariboo on a huge ranch. When they turned horses out in the winter, she and some friends would grab halters—and what they caught, they climbed on.
"Sometimes we didn't stay on, but the snow was a good landing," said Pighin. "I had a passion for horses right from Day 1."
Pighin said saddle or no saddle, being so close to the horse when jumping was what got her hooked.
An outstanding talent
Pighin started out in rodeo and then at 18 she tried English riding. She was on the Alberta team for three-day eventing, competing in British Columbia, Alberta and Montana. She evented for 15 years in upper levels, training and using her own horses. She was talent identified by Equine Canada for her accomplishments and completed CCI (Concours Complet International) two-star-level events—which meant she was recognized as a starter for international events. She was also long-listed for the Olympics.
Meanwhile, Pighin worked as a full-time vet technician and had a growing family. She said her horse business found her.
"People started asking me for help more and more, so I stopped working for the vet and started charging for my services," said Pighin.
A dream becomes reality
Pighin is now a Level 2 coach, teaches up to preliminary levels, and offers a number of services at her stunning property in Wycliffe, just outside Cranbrook, B.C.
She coaches all levels of western and English riding, including dressage, jumping and eventing. She coaches on the show circuit if required, and will train young, green horses. As well as offering horses for sale, she can help with owner-horse problems.
"My niche is training horses and I am successful with problem horses," said Pighin, addiing that "problem" is really not the right word.
"What is a problem really isn't most of the time," she said. "What lacks with these horses is often not enough riding. You can have the best horse in the world and the best coach in the world, but if you don't put time in, it is not going to come together."
Pighin works all year round, keeping her horses fit in the winter. She is looking forward to spring, when business escalates and lessons take off.
No neigh-sayers here!
Anne Piques has been a client of Pighin's for years.
"I am 72 years old and Pat takes as much time to teach me as any of her other students," said Piques. "She teaches me for the love of teaching and because that is part of her character. I get the same quality of lessons that the best of her young riders get."
Piques said Pighin's patience is legendary.
"I know," said Piques, "as I have thoroughly tested it upon occasion."
Pighin is hosting four clinics this season, bringing in upper-level coaches for dressage and jumping. She will also be taking clients on the show circuit in Montana and Alberta.
Clients can lease a horse for the full season, and anyone who trains with Pighin can take advantage of the 1,500 acres of Crown land behind her property.
"The experience here is so rich," said Pighin. "You have good horses to ride and the view is amazing."
She offers testing and preparation work for Equine Canada Rider Levels and she coaches many international exchange students.
This summer, Pighin said she plans to offer a ladies weekend. Lessons, horsemanship and trail riding will be provided on this getaway. She is currently looking for a working student who can use this opportunity to gain accreditation for school.