Fly eagle fly—over Harmony Park in Cranbrook
Local artist and steel fabricator Ron Demaniuk has created a magnificent eagle structure in Cranbrook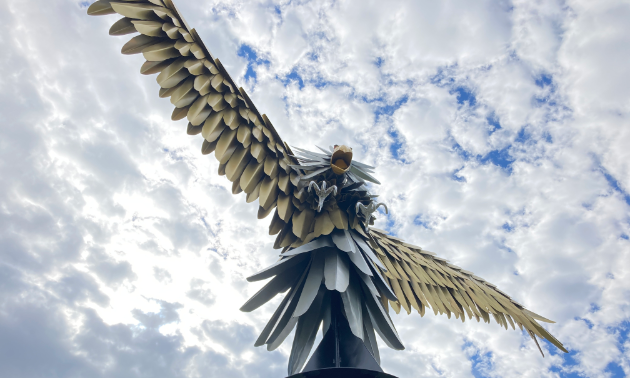 What does a steel fabricator do when they retire? Build incredible art, of course! That's the approach taken by Cranbrook local Ron Demaniuk. This retired steel fabricator has transformed material that was purchased from local suppliers into an immaculate screaming eagle structure that now resides over Harmony Park across from the Railway Museum in the Key City.
"I had to do something in my spare time," he said. "This one at Harmony Park is the fourth eagle that I've done. The other three are in my yard."
Demaniuk created the project from scratch and did all the work himself—plasma cutting, cleaning, welding, and everything in between. One of the most challenging aspects of the build was getting the eagle's 200 feathers just right.
"The wings are a lot of work," he said. "There are many layers of feathers and I had to work off of a 10-foot ladder. There's a lot of pipework and bracing. It had to be secure so the wind couldn't blow it down."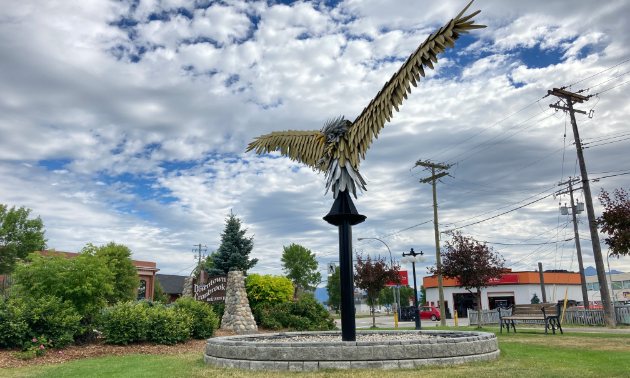 Demaniuk began constructing the head and claws of the eagle in his garage in January. When the weather got better, he was able to work on the framework and the eagle in his yard outside. He finished the eagle in May and the City set the eagle on its base in late July.
In working with the City of Cranbrook, Demaniuk had to adhere to guidelines set out by his contract. The eagle couldn't have any sharp points and had to be raised at least eight feet off the ground.
"Harmony Park has a lot of items in their benches, lights and shrubbery," said Demaniuk. "The 'Welcome to Cranbrook' sign is there too. If the eagle was low, it would've congested the area too much. That was another reason to get it up in the air."
Once the eagle was set in place, Demaniuk went through a range of emotions.
"I was sad when I had to put him up at Harmony Park," said Demaniuk. "I feel a connection to the eagle. Every piece of it. I feel close to it. Every time I drive by, I talk to the eagle—spirit-wise. He's doing well. He's looking good. I'm quite pleased."
When reflecting on the process of creating his screaming eagle structure for the City of Cranbrook, Demaniuk was happy with how things came together.
"I feel good that we finally got a local art piece up—I'm proud of that," he said. "A lot of art is from out of Cranbrook. When the City made this proposal, you had to be within the Columbia Basin area. I'm glad to see that the City is doing more in that area around the Railway Museum. I compliment the City workers and management. They were super to work with. Everyone worked like a team."