Cranbrook CAO addresses chamber
Recent improvements at Cranbrook City Hall make customer service a priority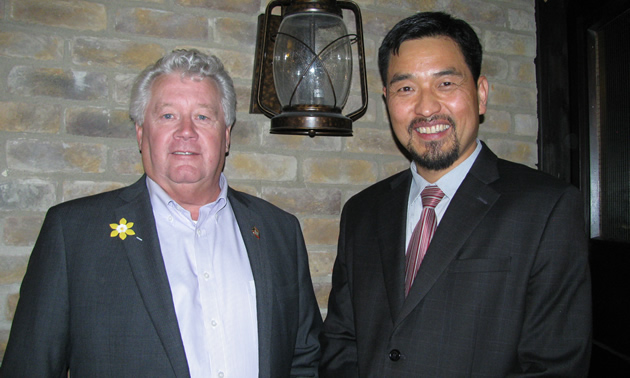 It's been a full year since David Kim took on the position of CAO for the City of Cranbrook, and he marked the anniversary by speaking to a group of business people at the monthly Cranbrook Chamber of Commerce luncheon on April 19.
Kim's leadership style is characterized by risk management as opposed to risk aversion, and bringing this cultural change to Cranbrook's administrative team was an important element of his first year of service to the city. With Cranbrook's city council embracing the culture, city administration has adopted a customer-service mindset that focuses on results rather than bureaucratic process.
Now, at the beginning of Kim's second year as CAO, the focus will be to build organizational capacity and competency.
The goals:
To deliver top value to the customer
To prepare the City administration for future growth and change
To manage threats through rigorous risk management.
Delivering top value to the customer includes service improvement, making access to answers from City Hall more convenient and less nightmarish. Those improvements are, in part:
Improved cross-departmental communication and co-ordination, resulting in streamlined processes that are making Cranbrook City Hall more user-friendly;
A new One City, One Call system that will make information quickly and easily available via a single 311 call, answered by a real person;
A real-time monitoring, reporting and dispatching program that will ensure prompt attention to roadway hazards and infrastructure malfunctions.
An online system that will be implemented for applications, submissions, review and approvals.
Kim also presented a list of items that are on the City's agenda for future growth and change and for increased community vibrancy. Those items include:
Planned and serviceable land supply reviews
Integrated infrastructure investment strategy
Intermodal transportation hub strategy, working with CP Rail and the Port of Vancouver. (Last year's Regional Truck Activity Survey is providing valuable information to further this strategy.)
Industrial land strategy
Development cost charge review
Neighbourhood master planning
Main street improvement, inner-city density bonusing, busker permits, etc.
Downtown street improvement
Citywide bike trail network plan
Recreation master plan
A number of business attraction and marketing activities are also on the City agenda, including the launch of Cranbrook Tourism, hosting the B.C. 55+ Games in 2018, a cogeneration power plant, a watershed fuel management and cost recovery plan, and working with the City of Kimberley for the mutual benefit of both communities.
Kim noted that alliances of the City of Cranbrook with other groups, including the local development industry, the Aq'am First Nation, the Downtown Business Association and the Cranbrook Chamber of Commerce, can result in great mutual benefit.
City administration is working to raise Cranbrook's profile as an intermodal hub for both north-south and east-west traffic, with close proximity to the U.S.-Canada border. That position, along with affordable property and important services, makes Cranbrook an appealing option for business and industry wishing to locate outside of large urban centres. Cranbrook's remote location—a former impediment—now offers a strategic opportunity.