Cranbrook-based Kootenay Microgreens is sprouting roots in the region
Kootenay Microgreens specializes in the growth and distribution of these popular and super-healthy edible seedlings.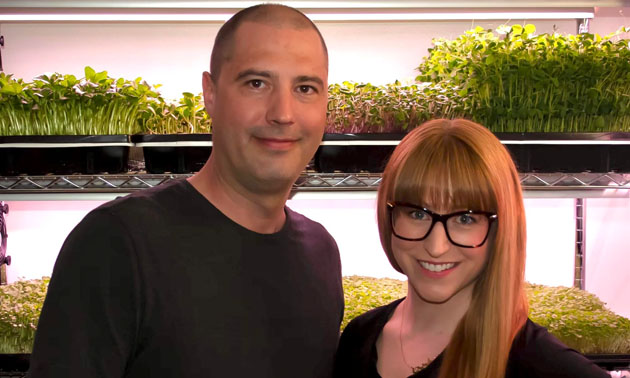 It's been only two months since urban farmers Erin Robertson and Dennis Lavoie started their business and already it's sprouting up to become a success.
The Cranbrook couple are the owners of Kootenay Microgreens, an urban farm that specializes in growing and selling microgreens. Launched in March of this year, the business has a "direct-to-consumer" focus, which means they offer weekly contactless deliveries in both Cranbrook and Kimberley.
The pair both have full-time jobs, so what made this couple decide to start a business on top of their busy lives?
"Like most people during COVID-19, we started some new hobbies—including growing microgreens for our own consumption," said Robertson. "After growing for ourselves for a few months, we decided it might be a product that others would enjoy."
Judging by the community reception so far, their business is set to take root and keep growing.
"Often we have varieties that sell out!" said Robertson.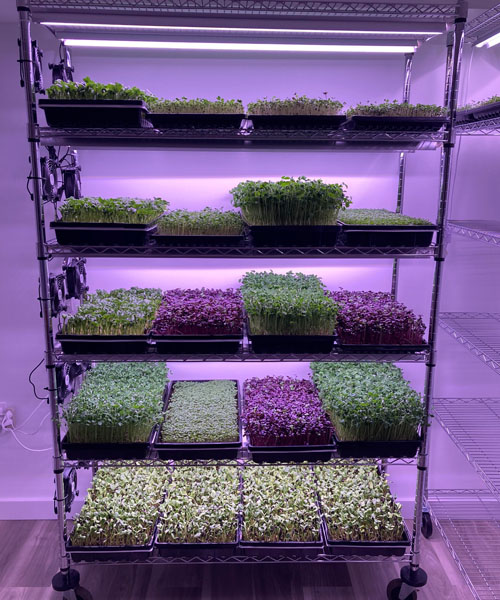 They offer bi-weekly and weekly subscriptions for interested customers, which helps Robertson and Lavoie decide what to grow and also avoids customer disappointment. Nutters Everyday Naturals in downtown Cranbrook also recently arranged to stock their products in-store.
So what, exactly, are microgreens? Hailed as a superfood, microgreens are essentially "micro" versions of their adult plant and are a rich source of nutrients, vitamins and minerals. Seedlings are usually grown to the cotyledon stage (the first leaves) in a suitable medium and harvested above the soil. The varieties grown at Kootenay Microgreens have a crop cycle (seed to harvest) of about 10 days, and their most popular selections include broccoli, radish and speckled pea. To maintain maximum freshness and nutrition, all deliveries are made within 24 hours of microgreen harvesting although delivery is usually much quicker than that.
KootenayBiz chatted with Robertson about the health benefits of microgreens, the products they offer and what's on the horizon for this growing business.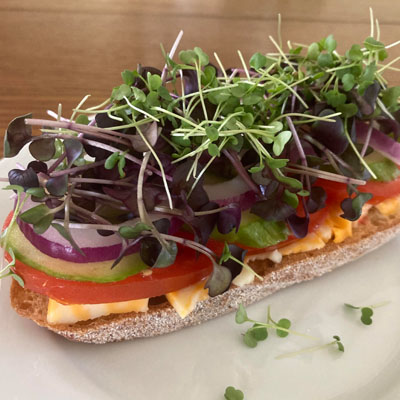 Microgreens are hailed as the new superfood. What are the health benefits of eating microgreens and shoots?
We encourage people to do their own research as each microgreen is different, but there is research that shows that microgreens are four to 40 times more nutrient dense than the adult versions of the plant. Broccoli microgreens are particularly famous for their levels of sulforaphane, which is known for its cancer-fighting properties.
What's the difference between these products on your menu: shoots, microgreens and speciality?
"Shoots" are larger and heartier microgreens. The varieties we grow include pea, sunflower and fava bean. Microgreens are the traditional medium-size [seedling]—we have radish and broccoli. Speciality is a term we use to describe small yield and more dainty microgreens—currently we grow arugula.
For the microgreen newbie, does each variety have a particular taste? Do broccoli microgreens taste like broccoli, for instance?
Generally microgreens taste like their adult versions. Pea shoots taste like peas, radish microgreens taste like radish, etc. That said, the flavour isn't identical but it should give you an idea of which varieties you may like.
Do you have any future plans for your business that you are particularly excited about?
Because our business is only a couple of months old, we are still focused on building a customer base and are excited to see what the future holds.