Bold new businesses
Brook PR and Brook Centre are new Cranbrook businesses that have hit the ground running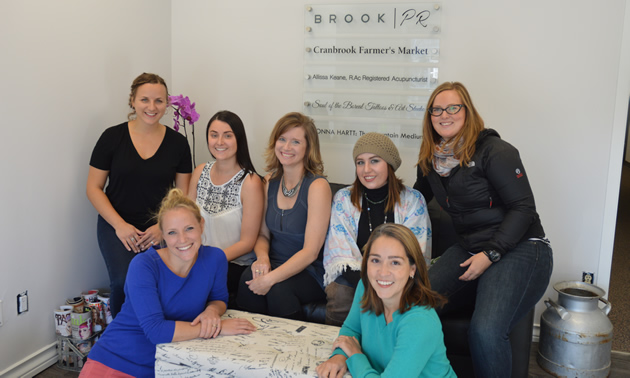 Most business owners are strong in the area of specific industry knowledge and customer service, but may be at a loss when it comes to communicating and marketing their products and services. Cranbrook entrepreneurs and long-time friends Danielle Cardozo and Jody Jacob decided to create a business together to address this issue. Brook PR is the result.
Shortly after forming Brook PR and opening Brook Centre, a collaborative co-working space for women, Cardozo and Jacob realized that while they collaborate together very well, differences in lifestyle and long-term vision were indicating that an actual business partnership wasn't going to work.
"We realized that we want to work together, but not as partners," said Cardozo. "We both want independence, so restructuring made sense. Now I own the brand, Brook PR and Brook Centre, and Jody runs her company from here."
The divergence is amicable and hardly noticeable—Cardozo and Jacob consult with each other and cross-refer clients appropriately for client needs and their own expertise.
Tenants at Brook Centre include Cardozo herself, Jacob, and four other businesses: Cranbrook Farmers Market under Livia Lara; Fruition Wellness under Allissa Keane and Mandy Lawson; Soul of the Boreal Tattoos & Art Studio under Kya Dubois; and The Mountain Medium, Donna Hartt. The centre's boardroom is available to tenants and outside renters for meetings and workshops.
"In terms of involvement and taking care of the place, all six of us take ownership—it's pretty much a co-operative," Cardozo said. "Our personalities all fit—it's like this arrangement was waiting to happen."
Rent from the tenants is just enough to cover Cardozo's lease costs, and in fact the Cranbrook Farmers Market will occupy its office at Brook Centre free of charge for one year—it's all Cardozo's way of supporting these particular entrepreneurs and others in her beloved hometown.
Brook PR has taken off in a way that Cardozo didn't anticipate, and it's already got her working long hours, as is her style.
"Lack of clients is not an issue," she said. "I was expecting to have to slowly build a clientele of maybe 20 small clients, but instead I have four really big clients. Part of the challenge with this is that when I'm approached by other potential clients, I have to say no."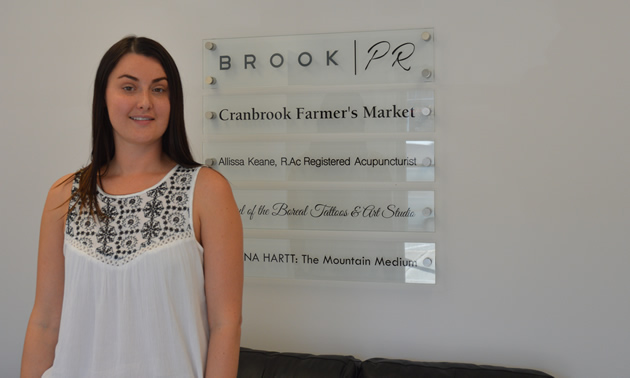 Cardozo's prior work in economic development with First Nations gave her an additional understanding of the workings of such large companies as Teck, Columbia Power, BC Hydro, Paper Excellence and Canfor. Her work on city council provides her with an understanding of municipal tax incentives.
However, Cardozo doesn't pretend to be an expert in all aspects of her business, and she taps into the skills of other specialists in the region. She links her clients with experts from companies in the appropriate sector to create the messaging and materials that will get the best possible results.
Cardozo is working with a Montreal-based manufacturing company, a client in the automotive industry and one in the restaurant industry. She believes it's her job to make people and their companies look good.
"I've been doing stakeholder relations," she said, "so I'm working with local First Nations, municipalities, government and other stakeholders. I'm looking at locations and tax incentives for the client's benefit, and can't help thinking how this is beneficial for our community as well, so it's exciting for me on both sides."
Cardozo said her passion is helping businesses, and that she's been fortunate to have some great mentors over the years. Her vision for Brook PR is to get to a place where she can empower other people to do something that they love.
"I'm not thinking too far ahead," she said. "For now I want to work with the clients that I have and do it really, really well. That's my priority."