Applauding Brown Dog Contracting
Readers of Kootenay Business magazine pick Brown Dog Contracting in Best of Business survey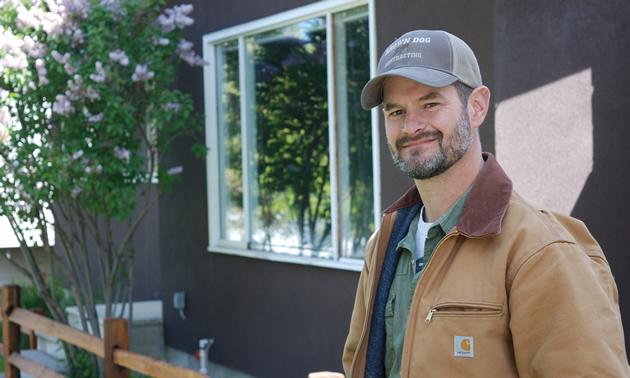 Brown Dog Contracting specializes in applying exterior finishing to homes—vinyl siding, stucco, engineered wood, fibre cement board and stone veneers. It's obvious that Monte Smith and his team at Brown Dog are doing a great job, as this company was a top choice in Kootenay Business magazine's 2019 Best of Business readers' survey for the East Kootenay.
"We also do small-scale renovations," Smith said. "We've done lots of bathroom renos, including tiling, and I love refacing fireplaces—it's really fun because of the dramatic difference it makes to the appearance of the home."
Brown Dog does some commercial projects as well, and this summer refinished the Kootenay Rockies Tourism building in Kimberley.
Smith said he appreciates the referrals that are keeping him busy and stimulating growth of the company. "I need someone to replace me on the job so that I can focus on the requests that are coming in," he said. "It's not easy to find the right person, though."
It's not just anyone who will be a good fit with this quiet, respectful crew. An underlying standard for Brown Dog is that they, the tradespeople who do the work, will be as proud of the finished product as the customer is.
"We are interested in our customers," said Smith. "We talk to their kids, we pet their dogs—people seem to enjoy having us on site."
Smith's focus on the job at hand—getting it done on time and to a high standard—means that he's sometimes overdue with his paperwork, but we think he's got his priorities in the right order. Testimonials from customers give Smith and his team resoundingly positive reviews.
And just FYI, the Brown Dog website and Facebook page are worth a thorough exploration. The assortment of project photos will impress, and you'll love the story behind the company name.