Ad Talk: chill out and give your local highway contractor the thumbs-up
With winter's onset, a favourite topic of conversation seems to be the winter maintenance of our local roads.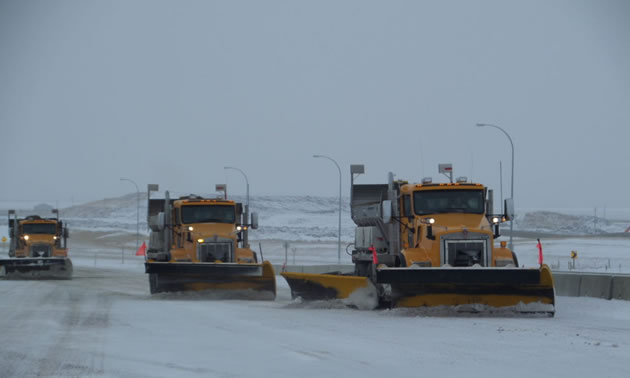 It is often said that the number one thing Canadians like to talk about is the weather. With the season's first snowfall upon us, I am reminded that in the Kootenays, the only thing that might outpace a chat about the weather may be another winter-related topic, which spikes with each and every snowfall: winter road maintenance or the lack of it. It's always a favourite conversation piece, especially in a heavier than usual snowfall year.
I call it the "bash the road maintenance contractor" rant. Here's the typical scenario: it snows overnight and a member of the traveling public needs to make an appointment the next morning. The roads are slippery, possibly still caked in snow and suddenly it's the contractor's fault the roads are not in perfect driving conditions—in a matter of hours. So social media lights up with an assortment of complaints, Letters to the Editor are penned, irritated calls are placed to government officials, petitions are crafted and everyone who will listen is told how terrible the road maintenance contractor is performing.
I drive a lot of kilometres over the course of a year, and I have encountered my share of bad roads, icy conditions and snowy highways. However, it is exactly what I expect to find from December to March in the Kootenays—winter driving conditions—we are living in Canada after all.
It is my belief that the driving public needs to learn to slow down and drive responsively to the conditions. Just because you can travel 100+ kilometers-per-hour in the comfort of your luxury automobile or truck during three seasons of the year doesn't mean you can or should do so come wintertime.
I can't think of how many times I have been passed by an overly-aggressive winter driver. They generously give me the one-finger salute as they slide (literally) by. Often it is someone in a hopped up 4X4 or high performance vehicle, who feels invincible on the road. They clearly have the attitude that "nothing is going to slow me down." Though more than once a winter I have found such drivers in the ditch a few miles down the road and I am tempted to say, "Thanks for endangering my life as you drive way beyond what conditions dictate. Slow down buddy!"
If you stop and think about the massive geographical coverage area that your local highway crew is responsible for you begin to appreciate why not every road is going to be cleared to summer conditions immediately upon the snow settling down.
For example, Mainroad Contracting is the contractor in the East Kootenay region where I live. Here is what their coverage area looks: 3,673 lane kilometers of road and highway, 106 bridges, 45 retaining walls, 4,100 culverts, four tunnels (including Fernie rock tunnel), 11,000 signs and 11 rest areas. Not to mention the over 700 dead animals they remove from the highways every year.
The BC Ministry of Transportation in conjunction with their highway contractors throughout the province of BC have embarked on a safety initiative called Shift Into Winter. The essence of this campaign is to get drivers to recognize winter conditions for exactly what they are – dangerous! However, there are many things drivers can do to minimize the risks and take a more responsible approach to navigating winter roadways.
Here are a few tips from their www.shiftintowinter.ca website.
1) Slow down when you approach shaded areas, bridges and overpasses. These sections freeze sooner than others.
2) Don't pass a snow plow with yellow flashing lights. They'll pull over as soon as it is safe to do so.
3) Speed limits are for ideal driving conditions. Winter driving conditions are NOT ideal, slow down and drive safe.
4) Conditions change. So should your speed.
5) Using proper winter tires can increase the likelihood of you avoiding a costly collision. (Editor's note: Remember, all-season tires means -- all seasons but winter)
The other thing to remember is the fact that traffic volumes on our roads and highways have increased dramatically in recent years – both in summer and winter. We live a very mobile society—more winter visitors come to enjoy winter recreation at our world class resorts, more people travel to sporting events or appointments, more commercial traffic (large heavy trucks) ply our highways, people commute greater distances to work each and every day – all contributing to increased traffic and more potential for accidents.
Do road maintenance contractors do a perfect job of keeping the road clear? Of course not, but to heap scorn and abuse on them seems to be counterproductive.
So why not slow down and chill out a little this winter? Leave a few minutes early or be prepared to arrive a bit late, take a defensive winter driving course and be sure to give your local highway's contractor a wave of gratitude and a thumbs up of appreciation—and please don't try to pass them when conditions are unsafe. Remember, if they weren't doing their job chances are you'd be stuck at home all winter long – just like in the old days.
Keith Powell is the publisher of Kootenay Business magazine and www.kootenaybiz.com. You can read his daily Kootenay Biz Blog at http://kootenaybiz.com/bizblog/