A Cranbrook woman shares her story
Author Suzanne Pantazis wants to help others find wellness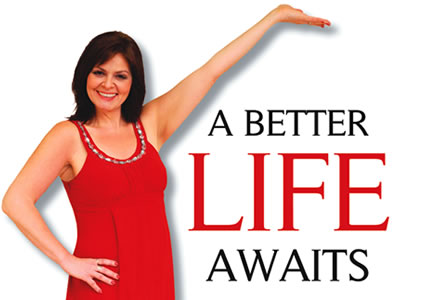 In the world of airbrushing and super skinny models, it is hard for people to have a good self image. Often health is mistaken for being thin, and radical diets and secret tricks to weight loss have dominated billboards and magazine headlines across the country. But according to Suzanne Pantazis, author of the book A Better Life Awaits, Baby Steps to Health and Happiness, to have health one must have wellness.
"Too many people get focused on the weight," said Pantazis. "They say, 'If I could only be 130 pounds and a size 6 then I'll be happy.' And so many people forget about the wellness side of it, and I think the reason people don't get healthy is because they are lacking in their spiritual and emotional wellness."
Speaking from the heart
Pantazis, who lives in Cranbrook, B.C., went through her own personal transformation 12 years ago. She was suffering from depression, overweight, riddled with chronic pain, unemployed and in an unhealthy marriage. The pivotal moment for Pantazis was the morning that she stepped off the bathroom scale and realized she was 100 pounds overweight. Pantazis knew this was the moment when she could choose to give up or make a change. Because of the inspiring message that Pantazis gives to others, she has been chosen to be the keynote speaker at the Rocky Mountain Health & Wellness Expo on Saturday, February 5, 2011, at the Prestige Rocky Mountain Resort & Convention Centre in Cranbrook.
"Now my life is so different," said Pantazis. "I have a successful business as a notary and I left the unhappy marriage I was in. It took a lot of courage to do that and now I am with a wonderful man who treats me the way that I have always deserved to be treated . . . and I have no health problems whatsoever. Had I continued on the path that I was on, who knows where I would be. I may be dead right now."
Pantazis' own personal journey inspired her to write her book and she has been featured in various magazines and on radio talk shows for her motivating message that she delivers to others. She has also obtained certification as a life success coach and has helped guide many people towards self-reflection.
Learn to be good to yourself
"So many people have a hard time with self-reflection," said Pantazis. "You can look at so many people and think they should be doing this and that. But when it comes to looking in the mirror and asking yourself 'What do I have to do?'—that is really hard. So that is in the book. I take the reader through my journey and how I did that self-reflection and regained my self-esteem and took steps to improving my health habits. (I think) as you feel better about yourself, you start to care more about your body."